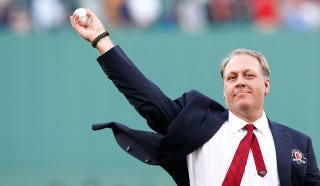 The Red Sox have had a bad year, but Curt Schilling's has been worse. At least the Red Sox have money. Schilling's video game company, 38 Studios, filed for bankruptcy in June. Even worse, 38 Studios owes around $150 million to creditors, including a $100 million loan from the state of Rhode Island. Now, Schilling is probably going to have to sell his prized possessions—including the famous bloody sock—to make a dent in his debt.
From the Boston Herald:
Schilling, whose Providence-based 38 Studios filed for bankruptcy in June, listed the sock as collateral to a bank in a September filing with the Massachusetts Secretary of State.

Schilling also listed a baseball hat said to have been worn by New York Yankees great Lou Gehrig and his collection of World War II memorabilia.
Be grateful, Bobby Valentine. You may be loathed in Boston right now and not very good at riding bikes, but at least you don't have an obscene amount of debt hanging over your head.
Curt Schilling could have to sell bloody sock [Boston Herald]