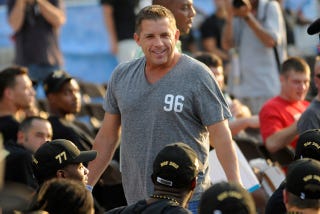 Heading into this Sunday night's game against San Diego, Drew Brees is one TD pass away from breaking Johnny Unitas' 52-year-old NFL record for most consecutive games throwing for a score. That, Brees deemed, was a big-enough occasion to decide to personally email Roger Goodell and ask if he'd allow Sean Payton a momentary reprieve from his year-long suspension and let him attend the game in person. Heretofore, Payton has been barred from any and all contact with the team, including attending New Orleans games in person. (How's he been spending his time? Coaching his son's sixth-grade team in Dallas.)
Now, the NFL has granted permission for Payton, GM Mickey Loomis, and assistant head coach Joe Vitt to attend the game Sunday night at the Metrodome Superdome. ESPN's Ed Werder has more:
"I am excited for our team and for them," Brees said in a text message, referring to Payton, Loomis and Vitt, all of whom came to the Saints in 2006, when the free-agent passer joined the franchise. "It adds another element to what we hope to be a very special night."

With a scoring pass in his 48th consecutive game Sunday night, Brees can break Johnny Unitas' NFL record. The opponent is the San Diego Chargers, the team that drafted Brees as a second-round pick and allowed him to leave as a free gent.

According to a league spokesman, arrangements are being made for Brees to visit with Payton, Loomis and Vitt after the game to "share the moment" with them.
Indeed, NFL spokesman Greg Aiello confirmed to the AP that the three men will be able to watch from a private area inside the stadium and will still be barred from contact with team officials and any players.
What we still don't know, though, is whether Payton will actually be there. A couple of days ago, he specifically said he wouldn't be the one to do the asking, adding that "it's just an honor to be connected to this." Vitt, for his part, has already said that he won't be there:
"I do not under no circumstances want to be a distraction," Vitt said. "I'm not with the team right now, and I'll live by the letter of the suspension. The focus has got to be on the team, preparing hard and winning this game, first and foremost, then we hope to get the record.

"There's nothing I can do there that's gonna help them win this game. And I don't want to be a distraction."
For a team that's now 0-4, distractions don't seem to be in any short supply these days.
UPDATE (7:30 pm): Sources tell ESPN's Adam Schefter that Payton will be at Sunday's game.