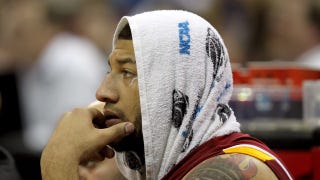 Royce White, the Houston Rockets' first-round draft pick, has struggled with anxiety disorder his entire life. Among other things, White is prone to panic attacks and harbors an immense fear of flying. It's tough to be an NBA player if one can't fly.
On Wednesday, White addressed this issue head-on and made it very clear that he is committed to maintaining his mental health as best he can during his first season in the NBA. White has not yet reported to training camp, and he doesn't plan to until he has assurances from the team that he will not be forced to fly any more than is absolutely necessary.
Via ESPN:
What it's going to look like is every game that's drivable, I'm going to get a bus for myself," White said. "And I'm going to make that bus feel like home so that there's a level of consistency in a job where inconsistency is very apparent because of the schedule. I'm going to try and level that out and make sure that my stress levels stay low and that my rest is regular and that my meals are regular and that as much as I can, draw consistency from a very inconsistent schedule.
It's good to see that White is taking his anxiety disorder seriously, and not choosing to risk his own well-being by "toughing it out." Luckily, White was drafted by one of the more forward-thinking organizations in the NBA, and Rockets GM Daryl Morey has previously stated, "We are committed to Royce's long-term success and we will continue to support him now and going forward."