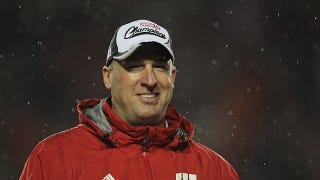 On Thursday, Barack Obama gave a speech at the University of Wisconsin. As is the case when any sitting president visits a college campus, a lot of attention was paid to the event. More than 30,000 people reportedly came to watch the President speak.
Despite all of the hoopla, Bret Bielema, the university's head football coach, had no idea that Obama had come to town, and he revealed as much in hilarious fashion during Thursday's media session.
From the Wisconsin State Journal:
Bielema was asked about the president being on campus and had a bewildered look on his face.

"President of our ...?" he said.

"I have no idea what's going on."
Don't ever change, hyper-obsessive football coaches who have a very limited awareness of anything that does not concern football. You are all so precious.
Badgers football: Bielema had no idea Obama was on campus [Wisconsin State Journal]