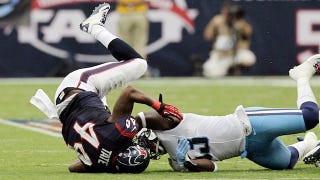 On Thursday, Tennessee Titans defensive coordinator Jim Jerry Gray made the following comments to The Tenneseean:
If you are worrying about that, you are not going to go out and try and blow the guy up. Great football players have to put that out of their mind. You have to say, 'This is my territory between the numbers, and if you throw the football you better bring the Gator truck.' And that's how you have to play. You can't play timid in the NFL.
Gray's comments were in reference to members of the Titans secondary being hesitant to make big hits for fear of receiving a fine from the NFL. (The "Gator truck" that he refers to is the cart that is used to carry injured players off of the field.)
The NFL caught wind of what Gray said, and according to ESPN's Ed Werder they are "reviewing" his comments. This is the reality that the league created for itself when it went all-in with its punishment of those involved in the Saints bounty scandal. Now, every time an NFL coach spouts off some hyperbolic, tough-guy pep talk (read: all the damn time) the NFL is going to have to "review" the situation. That'll make the game safer.
Tennessee Titans coordinator wants tougher coverage [Tennesseean]
Titans' hit talk under review by NFL [ESPN]