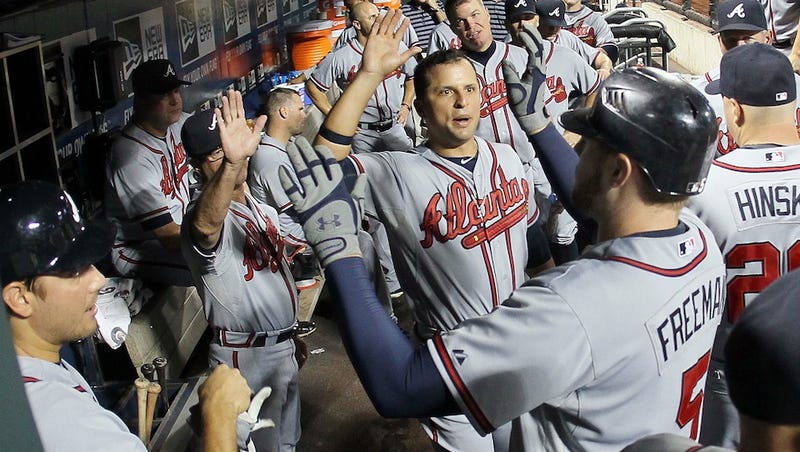 Big baseball games coming your way: Cardinals-Braves right now, and Rangers-Orioles at 8:37 p.m. Both air on TBS, if they're not preempted by whatever Tyler Perry show was originally scheduled. These games will, if all goes according to plan, excite you. But they may also be wacky and long!
MLB has, in its infinite wisdom, decreed these games a separate round of postseason play. And teams get to rejigger their rosters between rounds of the postseason. So Atlanta, St. Louis, Baltimore, and Texas had the chance to assemble rosters to last this one game only—they didn't have to carry four starters; they were unshackled.
Well, what did they do? Well, Braves manager Fredi Gonzalez deserves the first prize for creativity: he built an eight-man bench to go with his nine-man pitching staff. He enlisted the usual Braves bullpen, playoff starter Kris Medlen, and other starters Tim Hudson and Mike Minor, just in case something goes wrong. Now Fredi has J.C. Boscan, Eric Hinske, AND Juan Francisco at his disposal.
The Cardinals have a lean-by-comparison seven-man bench, stocked with the adorably punchless Ryan Jackson, Adron Chambers, and Shane Robinson, among others. Accordingly, they have but two left-handed relievers on staff—Mark Rzepczynski and Sam Freeman—to deal with the Braves' gaggle of mean lefties. Two's probably enough, so long as both do their jobs. We pause here to sigh at the the squandered possibility of Tony La Russa managing the roster for a one-game wild-card playoff. He might carry 13 pitchers, 12 of them situational relievers. But he might also carry nine pinch-hitters. In this regard, and this regard only, we miss him.
The Rangers and O's—with the designated hitter spot there to make their lives easier—both went with 11 pitchers. The O's opted for hot hands over stalwarts: Tommy Hunter, who had an 0.71 ERA in September/October but a 5.45 ERA, made the team, but recently reliable starters Miguel Gonzalez and Chris Tillman (who could have worked in relief) didn't. All that's to say nothing of Buck Showalter's most curious decision: starting Joe Saunders in a deathmatch game. Saunders has been fine for Baltimore (3.63 ERA in seven starts, with a 1.276 WHIP), but Texas hits lefties better than righties, and Saunders has a career 6.48 ERA in 11 starts against the Rangers. The Rangers did the straightforward thing: they took their second-best starter and put him on the hill, and they put their other fine starters—Matt Harrison, Derek Holland, Scott Feldman—in the bullpen. Roy Oswalt's kicking around there too, but that's because he's a reliever now.
All of this is weirdo chess-match shit, the kind of stuff talk-radio types will dissect for months, even though it won't matter after tonight. We've all got a bad case of wild-card fever.