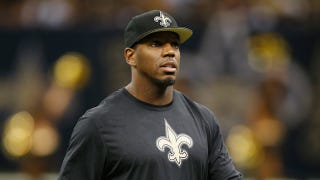 Jonathan Vilma was suspended for the entirety of the season by Roger Goodell due to his alleged participation the the Saints bounty program. His suspension was then overturned on what amounted to a technicality. Then he was placed on the physically unable to perform list because of a knee injury. Not long after, his season-long suspension was reinstated by Goodell. And yet, according to ESPN, Jonathan Vilma will play in a football game this year!
Vilma is set to come off of the PUP list this week and will be ready to play against the Tampa Bay Buccaneers on Sunday, a feat he is able to pull off because the appeal against his reinstated suspension is still pending, and likely won't be decided until next Tuesday.
So taste that, world. You can try to hold Jonathan Vilma down all you want, but the man will not be denied. He will not go gently into that good night. He will lead his mostly shitty football team into glorious battle against another mostly shitty football team in a game that everyone will immediately forget about.