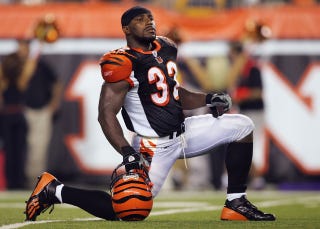 Former NFL running back Rudi Johnson, who was once on an episode of MTV Cribs (playing third-string behind Bow Wow and Don Omar), is auctioning off many of his possessions, and he's passing the savings on to youuuu!
We've got sports memorabilia that you never knew you wanted! Here's Rudi Johnson's community college football jersey, starting at just $1! Do you want Willie Henderson's game-worn Pro Bowl getup, complete with pants and gloves? ("Pants and jersey show blemishes and stains from game use.") Bid $9 now! Be the envy of all your friends by owning more Rudi Johnson game balls than anyone ever.
If you like sports, but not Rudi Johnson or Willie Henderson, there are other great collectibles, such as a boxing glove autographed by Joe Frazier or a Browns mini helmet signed by Jim Brown.
Or, if you're not that big of a sports/Rudi Johnson enthusiast, go with this rug that currently requires an $8 bid. It would really tie the room together.
H/t to Brent.