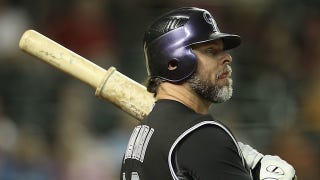 Yes, Jason Giambi—the man who has no managerial experience at any level, posed for this Sports Illustrated cover, lives in Las Vegas by choice, and has spent the last four seasons looking like a sad dad on the Rockies' bench—is a managerial candidate. The Rockies are on the hunt for a new manager after Jim Tracy up and quit last week.
According to the Denver Post, Giambi will interview with the team, although a specific date has not yet been set. He would have met with team executives earlier, too, if not for the hernia surgery he recently underwent in order to keep his playing options alive for 2013.
There isn't much to actually be made out of this announcement. Giambi has become a fan favorite in Denver, and the Rockies are most likely just buttering him up so that he'll be more willing to stick around in some other capacity that will allow fans to keep yelling "Giambino!" at Rockies games.
Although: it would be interesting to see what a Rockies team under Giambi's guidance would look like. Long hair and grimy beards for everyone! Team trips to Vanity after each three-game winning streak! Tuesday is Bring Your Harley To Work day!
Jason Giambi will interview for Colorado Rockies manager [Denver Post]