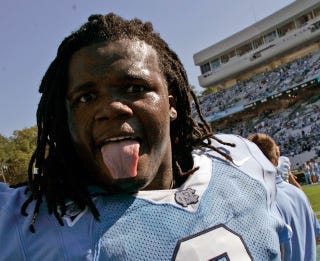 While the Giants were in San Francisco to face the 49ers, burglars broke into the team's parking lot back in East Rutherford, N.J. where the players' cars were parked. The burglars broke into multiple vehicles and stole one.
Ralph Vacchiano and Larry McShane of the New York Daily News:
A 1996 Chevy Caprice was stolen and other vehicles broken into sometime around 4 a.m. Sunday outside the Timex Performance Center - the team's practice facility, police said.

The lot is surrounded by a large iron fence, and guarded by a private security firm. The thieves broke a lock on the gate and slipped inside the facility, which is across a parking lot from MetLife Stadium.
According to NBC New York, the stolen Caprice belonged to defensive tackle Marvin Austin. You might be wondering, "Why a 1996 Chevy Caprice, Marvin?" Allow state police spokesman Brian Polite to explain:
Souped-up versions of the vehicle are popular with sports stars, Polite said.
Thanks, Brian.
New York Giants' cars burglarized during San Francisco road game [New York Daily News]
Giants Players' Cars Burglarized, 1 Stolen During Away Game [NBC New York]