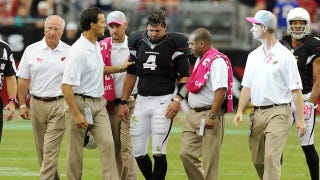 Well, this puts Kolb squarely atop the Most Horrifying NFL Injury Of The Season leader board, doesn't it? Having your ribs detached from your sternum sounds like one of the most awful things that could ever happen, and I'm not confident that doctors even know how to reattach a man's ribs to his sternum. I mean, this can't be something that happens all the time.
Kolb's chest was mercilessly ripped asunder on Sunday when he was hit by the Bills' Chris Kelsay and Alex Carrington. Now those guys can tell people that they were responsible for detaching a man's ribs from his sternum, and people will be terrified of them.
The good news, of course, is that Kolb's injury will lead to the return of American hero John Skelton.
Report: Kevin Kolb to miss several weeks after multiple ribs detach from sternum [CBS Sports]