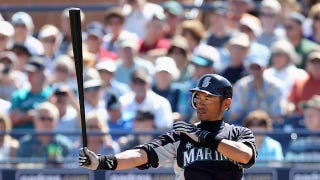 David Shields has authored 14 books and has written for a wide variety of publications throughout his career. His latest book, Baseball Is Just Baseball: The Understated Ichiro, is a collection of the most fascinating Ichiro quotes. Here's a sampling of what you'll find in the book:
Tiger is a great golfer, but when you say athlete, I think of Carl Lewis. When you talk about [golfers or race-car drivers], I don't want to see them run. It's the same if you were to meet a beautiful girl and go bowling. If she's an ugly bowler, you are going to be disappointed.
When I left Arizona in 1999, Griffey gave me a bat signed "See you in Seattle," so it seems he lied to me.
Feel free to ask David about Ichiro, writing, or anything else you can think of. He'll be taking questions for about an hour.
UPDATE: We're experiencing some technical difficulties. Bear with us.
UPDATE #2: And we're live!