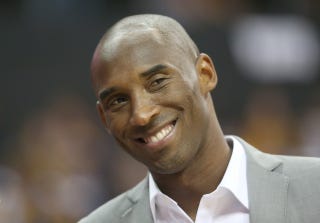 Alex Rodriguez isn't having fun sitting on the bench as the Yankees fight to reach the World Series (Well, maybe he's having some fun). A couple days ago, good friend Kobe Bryant, who was not happy to find out A-Rod was riding the pine, attempted to give a persuasive pep talk to the Yankees player.
Ramona Shelburne of ESPN Los Angeles:
"I just say to him, 'You're Alex Rodriguez. You're A-Rod. You're one of the best to ever do it,'" Bryant said. "I think sometimes he kind of forgets that and wants to try to do the right thing all the time. Which is the right team attitude to have. But other times you really have to put your head down and say, 'Hell with it' and just do your thing.
Boiled down, Kobe's message to Alex Rodriguez is, "You're Alex Rodriguez. Fuck your team. You're ALEX RODRIGUEZ." Although a little too direct, it's not the worst advice. It seemed to work for Keith Hernandez.
Kobe Bryant helps out Alex Rodriguez [ESPN Los Angeles]