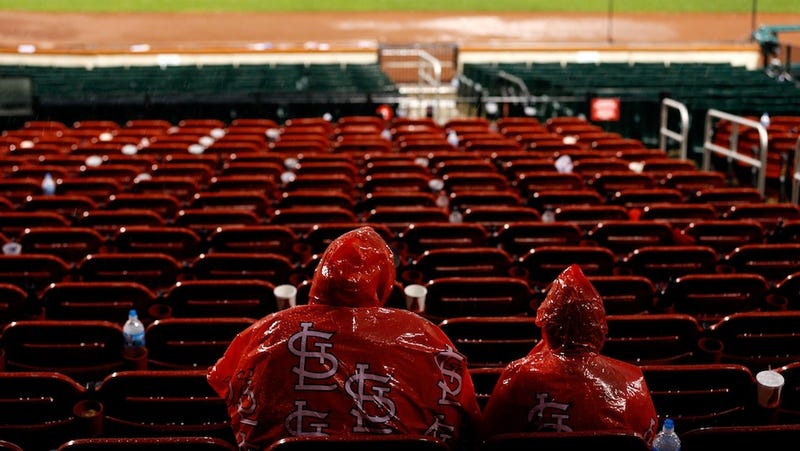 When Shane Robinson grounded out to give the Cardinals a 3-1 lead, with two outs in the seventh, it was raining. Raining hard. Raining hard enough to call the game? Raining harder than in the previous at-bat? Raining not quite as hard as it would for the next batter, when crew chief Gary Darling called a halt to play?
The timing of the tarp, and the three-and-a-half-hour rain delay, could not have been better for Busch Stadium. Per MLB rules, beer sales are cut off the moment the seventh inning ends. Had the umpires waited one more out (and they usually prefer to stop the game between innings), that would have been three-and-a-half fewer hours of beer sales.
And what the hell else are you going to do in a rain delay? You hang out under cover, by the concession stands, and you drink. The team airs Game 5 of the NLDS on the scoreboard, and you relive the delirium of the ninth inning, and you drink.
I'm not crying conspiracy here. After all, it's not like Anheuser-Busch owns the stadium's naming rights and has the exclusive beer contract, and it's not like playoffs aren't already a huge payday for vendors, and it's not like Gary Darling's favorite experience as an umpire was working a Cardinals series. But it would be just like the Alcohol-Industrial Complex to let the Tigers open their gates for Game 4, knowing rain was on the way (the game was held up for two hours before a drop fell), instead of just postponing it before the scheduled start time.