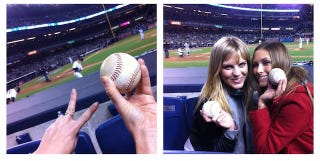 Last Saturday, Alex Rodriguez allegedly attempted to woo a pretty lady in the stands during his team's Game 1 loss to the Detroit Tigers. Now, the object of A-Rod's affection has been identified as Kyna Treacy, Australian model and owner of her own swimwear line. If Australian tabloids are to be believed, A-Rod threw Ms. Treacy a ball, which was attached to a note that solicited her for her digits. The pair then supposedly went on a date that night.
An anonymous source close to the situation was widely quoted in the Australian tabloids as saying, "I think she was pleasantly taken aback by the whole thing," which is already the exact reaction Yankees fans have whenever A-Rod doesn't strike out during the playoffs.
Name: Kyna Treacy
From: Woombye, Queensland, Australia
Height: 5' 8"
Education: Degree in Graphic Design
Age: Disputed
The Post article reported her age as 33, but Treacy took to Twitter to note she was actually 27:
We shouldn't take Treacy at her word, though. In November 2004, the month she scored her first big modeling gig, multiple Australian news sources reported her age as 25, which puts her at 33 today. For now, we'll say she's a young woman of indeterminate age. She's the Orlando Hernandez of Australian models!
Occupation: Runs the derivatively named "Kini Bikini"
Past boyfriends:
Some Yankees fan's comment on her Facebook:
A-Rod's girlfriend's assessment:
A commercial she did:
Tabloid idiom: "Leggy model"