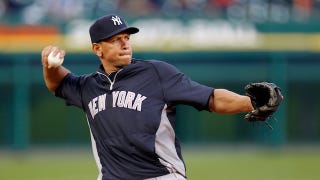 With Alex Rodriguez quickly falling out of favor in New York, speculation has started to fly about whether or not the Yankees would be interested in trading Rodriguez in the offseason. This morning, USA Today's Bob Nightengale got in on the action with this column, claiming that "This will be the last time you'll ever see Alex Rodriguez in a New York Yankees uniform."
The piece is entirely speculative and contains nothing of substance to back up its bold claim (Nightengale talked to a "close friend" of Rodriguez's who says A-Rod would welcome a trade but will not request one. That's it. That's all the reporting he has to offer.), but that's not really what makes it so awful. What makes it so awful is a line from this passage (emphasis is mine):
[Brian] Cashman vehemently denied a report by Keith Olbermann for MLB.com that said the Yankees have already discussed a deal to the Miami Marlins.

"I've had no discussions whatsoever with the Florida Marlins,'' Cashman said, but then again, didn't deny talks with the Miami Marlins. "I can tell you there are no discussions whatsoever, 100% false. We are not down the line on any trade talks on any of our players, including Alex.''
This is your sports journalism, America. Go fuck yourself.
Nightengale: A-Rod likely a Bronx goner [USA Today]