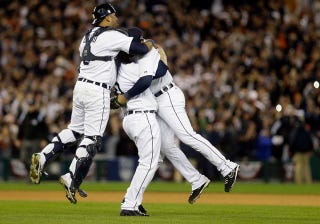 There will be many dissections and analyses of just how much of a drubbing the Tigers laid into the Yankees during this 2012 American League Championship Series, but if you even watched an hour of any given game, you saw near-complete domination of the Yankees, something we probably haven't seen since a certain four-game stretch in the 2004 playoffs.
The Yankees, having been swept in a seven-game series for the first time since 1976, never held a lead in this series and now face a slew of offseason questions. Will Alex Rodriguez stay in the Bronx or get traded to Los Angeles or Miami? Is Joe Girardi going to be welcomed back, after having made some questionable decisions in this series? Will Jeter and Rivera be healthy enough for Opening Day 2013? (Remember, every time the Yankees have been swept out the playoffs, they've come back to win go to the World Series the next season.)
Those are questions for another day. (Or not! Go for it in the comments, if you like.) For now, though, we know the Tigers will face either the Cardinals or the Giants, which play The Always Pivotal Game 4 tonight at New Busch. Stay tuned for more awesome baseball, I'm sure.
(Oh, and Delmon Young won the ALCS MVP award, so who the hell knows anymore.)
[MLB]