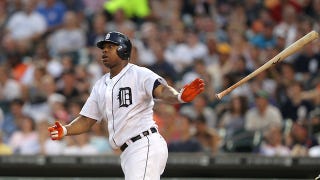 After his team completed their sweep of the New York Yankees last night, Delmon Young was awarded the ALCS MVP. Normally, this award isn't that big of a deal. It's a footnote that gets tacked on to the narrative of the series, and everyone forgets who won it a few days later. Young's award stands out, however, because he is by far the worst player to ever win it.
The ALCS MVP was first awarded in 1980, and the average career WAR (according to Baseball Reference) of the players who have received the award is 39.1. Delmon Young's career WAR is 0.6. The player on the list with the next-lowest mark is Nelson Cruz at eight. The next lowest after that are Marty Barrett at 8.1 and Matt Garza at 11.8. Young also boasts a .317 career OBP and an OPS+ of 98. He's a terrible baseball player. He is so bad, in fact, that when he is added to the list of ALCS MVPs, he lowers the average WAR to 37.9. Delmon Young has sullied the record books by a whole nearly two wins.
Granted, Young's career isn't over yet, but he hasn't done anything more notable than allegedly committing a hate crime. The highest WAR he's ever posted in a single season was a meager 1.5.
It's fitting that Young won his award in this particular series, though. A series in which Raul Ibanez, Phil Coke, Eduardo Nunez, Eric Chavez, and Jhonny Peralta were key players deserves to have its MVP be a fat DH who is objectively bad at baseball.