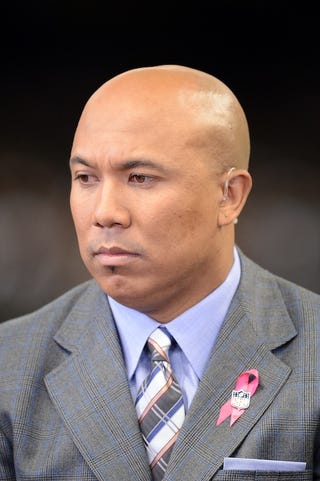 A man who claimed to have evidence that retired Steelers receiver Hines Ward has a thing for soliciting prostitutes was arrested on extortion charges Thursday in Pittsburgh. The man, Joshua Van Auker, allegedly texted Ward's personal assistant on Wednesday with a threat to go public with whatever info he had. Van Auker's girlfriend, according to what the personal assistant told police, used to be involved in a "physical relationship" with Ward, who is divorced.
The Pittsburgh Post-Gazette says the criminal complaint noted that Van Auker threatened to expose Ward for "the criminal offense of paying women for sex, and thereby exposing Ward to ridicule or contempt."
Van Auker was arrested Thursday by detectives from the Allegheny County district attorney's office after he allegedly met with Ward's personal assistant, Raymond Burgess, who paid him the money in exchange for unspecified "materials" in an envelope that Van Auker said could prove his claims, according to a criminal complaint. Detectives monitoring that exchange then arrested Van Auker but have not said what was in the envelope.
Ward's spokesman told the AP that Ward had no knowledge of the extortion attempt, which the spokesman called "the act of a desperate individual trying to get money from a celebrity." We're hearing there's more to this. Anyone out there know anything? Drop us a line.