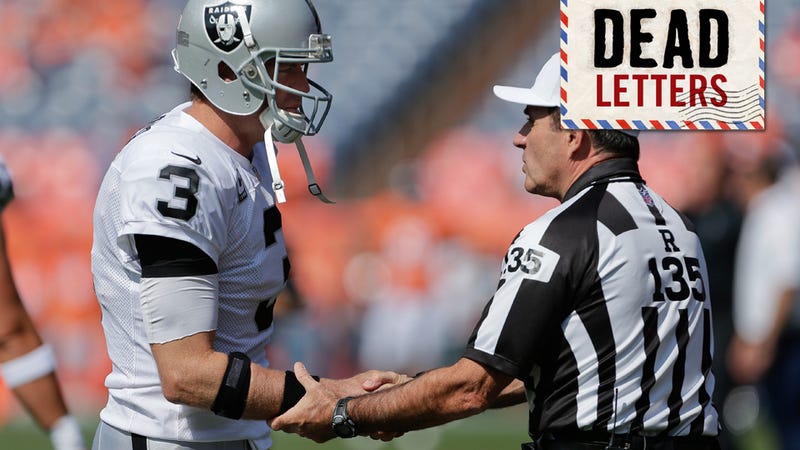 Welcome back to Dead Letters, the feature in which we reprint our favorite fan mail from throughout the week. It's like Deleted Scenes, but without all the scuzz money. We should take this moment to remind you that all emails to Deadspin and its editors are on the record unless otherwise specified. Now for your letters.
Subject: Please Let me know what I need to sign
From: Eddie Cade
To: Barry Petchesky

As an Ex NFL player I see the bias from the refs against The Raider my Friends never celebrate a first down a Big Play or A Touchdown cause we know any play that is positive for the Raiders will be called back , I will be the first to say that I loved the replacement refs cause they gave both teams a fair shot . What makes it worst is the REFS let the other team do whateva they want to the Raiders and if we sneeze on them we get a flag , case and point the Personnal foul called on the Matt 77 for fanning a fly from Schubs face was called but the helmet to helmet hit wasn't call on D.Moore I thought the Refs wanted to protect the Players , well I guess you can protect every team but the Raiders !!!

Eddie Cade| Account Manager

OPENLANE (an ADESA Company)

1620 South Stapley Drive, Suite 232

Mesa, AZ 85204
Subject: Please stick with the food
From: Mark Blizzard
To: Albert Burneko

Wow. The nba is a one on one league bro...Nick Young must have boned your wife or sister for you to unleash your rage on him....good luck with your life...Hater!!!!! Ps I'm a wizards season ticket holder and I realize how bad his decision making was when he was here...and how selfish he still is...however you should be pissed off at your editor for allowing that subjective hate speech on deadspin.com...you look like a jackass..now if anyone remembers your name from this article they will classify you as a cry baby trying to tattle on someone... Enjoy life! Write something positive..maybe you'll make espn one day....in my opinion you look like a loser...but hey I'm just one person from Washington, D.C....nobody else thinks the way I do! Lol

Sent from my iPhone
Subject: Nick Young Article
From: awesumpro
To: Albert Burneko

Albert,

As you age and mature you will discover that life is far too short to spend your time degrading individuals who have overcome so much and now contribute to the happiness of so many. Regardless what you think about his on court play (and he has had some absolutely incredible games) Nick Young is a quality young man who makes headlines for all the right reasons. Always remember, "Let he who has not sinned cast the first stone."

I wish you a good day and a more tolerant and mature future.

Best regards,

Dan
Subject: [posted on Tim Burke's Google+ page]
From: Peter Vorrias
To: Tim Burke

I couldn't stand your stupidity long enough to read your whole article but the fact that Google News gives commentaries like your top billing is why I'm going to use another news source. You write with that angle that you are obviously impressed with your own thoughts. Every idiot gets to feel like somebody on the web. 
Dead Tweets
Dead Facebook Comments