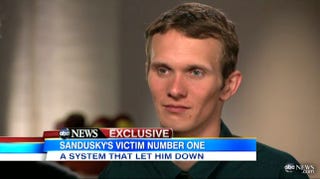 Aaron Fisher was 14 when he finally came forward in 2008 to allege that Jerry Sandusky had been abusing him since he was 11. Fisher is the boy from Clinton County whose initial allegation prompted the grand jury investigation that eventually led to all the other victims.
Sandusky was convicted this past June of 45 counts of sexual abuse against 10 boys, but he wasn't arrested until three years after Fisher first went to authorities. The attorney general's office told him it wanted to know if there were more victims before making an arrest, and Fisher despaired over the delay, according to details from an interview he did that is scheduled to air tonight on ABC's 20/20.
''I thought maybe it would be easier to take myself out of the equation,'' he told ABC. ''Let somebody else deal with it.''
Sexual abuse victims typically don't identify themselves publicly, and news organizations typically comply in keeping their identities private. But Fisher, now 18, has chosen to tell his story. In the weeks after Sandusky's arrest, it was reported that Fisher had to withdraw from school, and that officials at his high school were initially unwilling to believe him. Fisher's mother, Dawn Daniels, has also been interviewed by 20/20, and a book by Fisher, Daniels, and Fisher's psychologist is slated to be published soon.