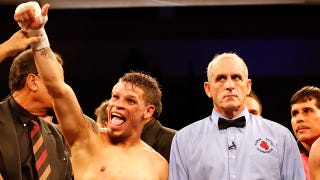 Well this is the feel-good story of the day. The boxer Orlando Cruz announced two weeks ago that he is gay, likely becoming the first boxer to do so during his career. And on Friday, Cruz, the WBO's fourth-ranked featherweight, successfully beat the shit out of Jorge Pazos, winning a unanimous decision. After two intense weeks of scrutiny and support, this let Cruz feel ecstasy, hope, relief and joy:
"I was very happy that they respect me."
Pazos (20-4, 13 Kos) spent most of the night lunging after the smiling Cruz.
"I feel happy with where I am."
As if there were ever, or should ever be a question of whether an athlete could be gay and flourish, let us answer that with a resounding duh. Turns out an openly gay fighter can thump a presumably straight fighter, and in fact do so gaily.