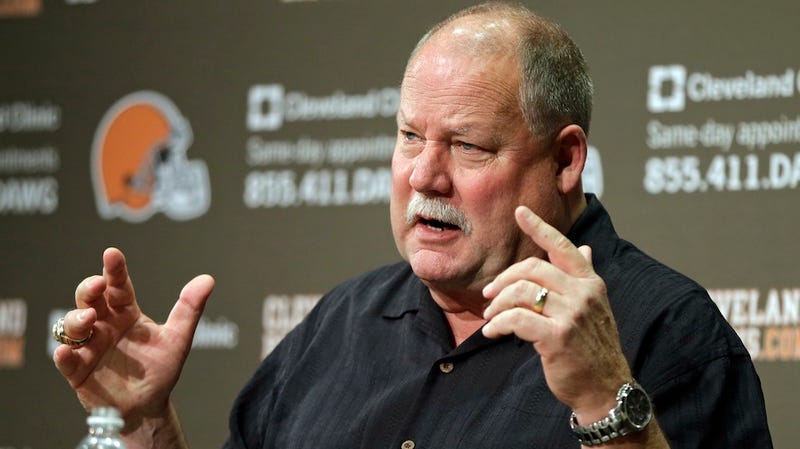 Big CBS exclusive yesterday: Mike Holmgren, who's going to be let go in Cleveland at the end of the season if not earlier, is going to be very picky about his next stop. But if there's an opening, he'd love to coach in Dallas. This according to "some sources who know Holmgren well."
Normally we don't care much for questions of sourcing and planted rumors, but Holmgren made an unscheduled appearance in the Cleveland media room today to deny, deny, deny that he's the one floating his name in connection with the Cowboys job.
"I just wouldn't do that. So help me with that, please. I'm telling you the way it is. I have no idea how any of that stuff gets started, but I'm telling you the straight scoop on that, OK?"

He said he has no idea where it came from.

"Yeah, yeah, but I'm telling you I don't know where, I don't know anything about it, I'm just telling you what I'm saying," he said. "I'm telling you and you got it straight from the horse's mouth."
NFL.com's Gregg Rosenthal would like to call bullshit. He points out that in the CBS story, Holmgren is the second item. The first is similar, this time with Andy Reid and San Diego. "Many believe" that Reid would be interested in the Chargers job, and "some close to him note" that he'd be well-suited.
Both Reid and Holmgren have the same agent, Bob LaMonte.
The lesson here: If one of your clients wants plausible deniability, don't plant two identical rumors about multiple clients with the same reporter at the same time.
Mike Holmgren says he hasn't expressed interest in coaching Dallas Cowboys [Plain Dealer]
Mike Holmgren: 'No idea' how Cowboys rumor started [NFL.com]