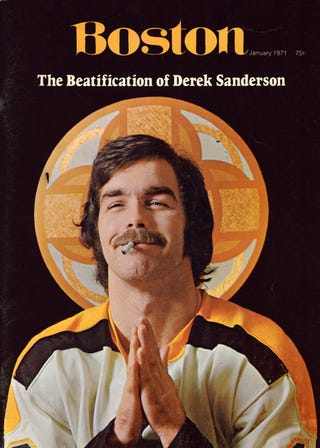 Derek Sanderson was the prototypical '70s athlete. A Calder winner with Boston, the Turk was everything you'd want in a celebrity—he got into fights on and off the ice, he hung with the rich and famous, he womanized, he abused drugs and alcohol, he fled the NHL for the then-richest contract in professional sports history, and he ended up broke and in rehab.
And now he's written an autobiography. A completely representative story:
He would not bat an eye at gathering a group of friends — including three actresses and two Playboy Bunnies — and flying them to Hawaii on the spot.

The conditions were they had to leave with nothing more than the clothes on their back and they couldn't phone anybody.

Sanderson put everything on his American Express card.

[...]

Recovered to the point he could golf, he bought two sets of clubs and everything else needed to play. He ended up giving his clubs to his caddy as a tip.

"I did that a few times," he wrote. "I had a bunch of money and I hate carrying clubs to the airport. It was the easy way out."
More than the stories, Sanderson may be remembered for one of the most iconic photos of the sport's era. Not Bobby Orr diving across the goalmouth in 1970—though Sanderson did assist on that Cup-winning goal—but the above cover of Boston magazine, with Sanderson smoking and praying. It's so telling, it ended up on the cover of his autobiography.
Boston's Alan Siegel tried to get to the bottom of the photograph, and not surprisingly, hears two competing stories on the origin of a shot taken more than 40 years ago.
What's certain is that it was taken by photographer John van-Schalkwyk (who professionally went by John van-S.) at his studio on Washington Street, near the old Jordan Marsh building. The day of the shoot, van-Schalkwyk said, Sanderson was in no condition to be photographed. "When he came down to the studio, he was pretty drunk," van-Schalkwyk said. "We couldn't work with him. We drove him home." The next morning, however, Sanderson was in better shape. On Day 2, he worked with van-Schalkwyk until at least the middle of the afternoon.

According to Sanderson, the money shot was actually a candid outtake, captured with Polaroid film after van-Schalkwyk finally granted his subject a smoke break. Sanderson said he was so happy, he put his hands together and sarcastically thanked God. According to van-Schalkwyk, the pose was planned. By who? He's not sure. Maybe the art director. But he does vividly remember taking the resulting photo with a Hasselblad 500C camera loaded with Ektachrome film.
Sanderson's better now. He's clean, and he works with a wealth management company that keeps athletes from following in his financial footsteps. He now prays for real, but he's given up the smoking.