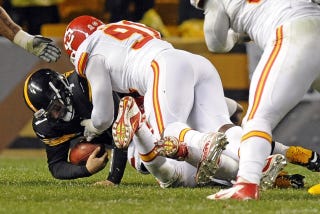 When Ben Roethlisberger left Monday night's game against the Chiefs after being sacked in the third quarter, the early diagnosis was that he injured his throwing shoulder. But based on what Roethlisberger told reporters today, doctors have since discovered he also has a dislocated rib injury that sounds far, far worse.
From Ed Bouchette of the Pittsburgh Post-Gazette:
Roethlisberger said it is a dislocation of the first rib that could puncture his aorta and that it is the bigger concern of the two.

"That's the more scary part because I guess if it goes in the wrong direction it could puncture the aorta," Roethlisberger told a large group of media gathered around him in the Steelers locker room at their Southside training facility.

[...]

Roethlisberger said he's gotten only about four hours sleep the past two nights and had to sleep in a chair.

"Certain movements," he said, "are very painful."Roethlisberger said doctors told him the injury is so rare in athletes that the last one they knew about that had a similar injury was a rugby player in 1998.
The aorta's a big deal. Per WebMD, "If the aorta bursts, it can cause serious bleeding that can quickly lead to death." Yikes. And, um, ouch? There's no timetable for Roethlisberger's return, but it sounds like it could be a while.
It's never a good time to have your starting quarterback get injured, especially when he's playing as well as Roethlisberger is. But it's especially bad right now for the Steelers, who play the hated Ravens twice in the next three weeks. Bright side: Roethlisberger's wife is due to have their first child any day now, so there's no longer a concern that he'll miss any games because of that.