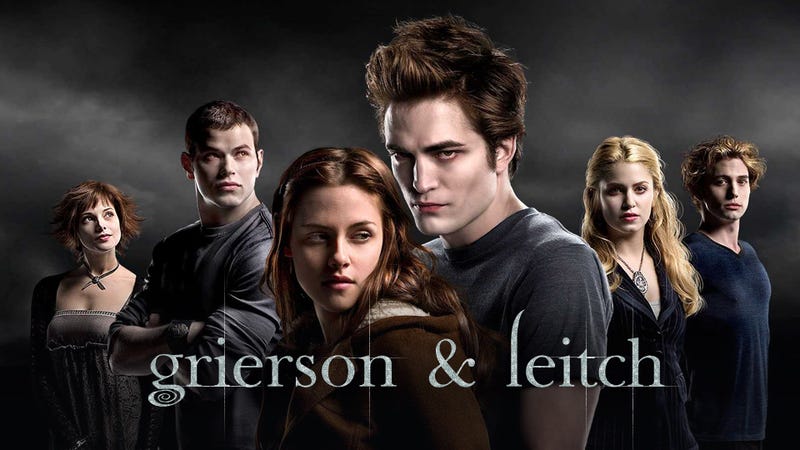 Friday brings with it the end of the half-decade scourge of the Twilight films. There have been five of them, and I have to confess to you, I haven't seen a single one of them. I know they are about vampires, I know the books they're based off are terrible, and I know that they make a shit-ton of money from teenagers. (Which sort of confirms they're terrible.) I'm not going to watch this last one either. Life is just too precious and fleeting, you know?
That said, I am sort of curious how the careers of the films' three young stars will turn out. When I think about the dumb movies everyone was watching when I was a kid, it's fun to see who turned into John Cusack and who turned into Christian Slater. Do you think those kids in 1982 could have possibly realized Spicoli would turn into Sean Penn? There was a time in my life when I thought Chris Klein was going to be the next great American movie star. Teen movies can skew future perspective.
We're not going to look at the established, skilled actors who show up in bit parts in the Twilight universe, your Michael Sheen, your Anna Kendrick. And we're not gonna look at the smaller "breakouts" like Nikki Reed or Kellen Lutz, mainly because I have no idea who they are. We'll focus on the particulars: Kristen Stewart, Robert Pattinson, and Taylor Lautner. What's gonna happen to these guys? Let's take a gander.
Kristen Stewart
Non-Twilight Work So Far: Adventureland, Panic Room, Snow White and the Huntsman, The Runaways, On the Road.
Teenage Years Parallel: Winona Ryder. The sullen leading lady who just isn't impressed by anything.
Assessment So Far: Adventurous. She hasn't proven she can do much more than pout, but she was still charming in Adventureland and not afraid to get a little nuts in On the Road. She's not all that great in that film, but I like that she gives it a try.
Suggestion: If anyone needs to do a romantic comedy, it's Stewart, who's so serious and leaden that it's becoming not fun to look at her. I'd recommend an off-center romantic comedy, something with Joseph Gordon-Levitt, or maybe the lead in one of those Michael Showalter comedies like The Baxter. Point is: Be goofy. You're a kid! Do something silly. No more action roles, though, please.
Prediction: The career path of Ryder sounds about right. Early highs followed by a dry period in which the star fades but the reputation is burnished, ending up in the OK, We All Respect Her phase Ryder's in now. That's be an OK way to go, and would allow for the unpredictability in career choices that Stewart clearly relishes.
Robert Pattinson
Non-Twilight Work So Far: Cosmopolis, Water for Elephants, Remember Me.
Teenage Years Parallel: Luke Perry? That sounds about right, even if Perry never had much movie success. Lost Boys-era Jason Patric, maybe?
Assessment So Far: Aiming for Superstardom. Don't get the Cronenberg connection overstated: Pattinson is trying to secure his acting bona fides so he can get cast in something big. He's perfectly fine in Cosmopolis, but what's really impressive is that he even decided to do such a wackadoodle movie in the first place. It's a good sign.
Suggestion: Pattinson could probably use a little testosterone next: He's seen as a pretty boy, and not much of a draw for straight men. He needs an action movie. Think Die Hard rather than Mission: Impossible: He'll be better off as a normal guy in an impossible situation rather than some superhuman. He's a smarter, wittier guy than he's given credit for—he's not Bruce Willis, but in a pinch, he could do.
Prediction: He'll give it a couple shots at superstardom, but it's hard to see how he ever shakes Twilight. Still, he's talented, and I can see him hitting some of those Hugh Grant jerk roles as he hits his mid-to-late thirties. That's a cool thing to aim for, actually: Older Hugh Grant.
Taylor Lautner
Non-Twilight Work So Far: Abduction, Valentine's Day.
Teenage Years Parallel: Judd Nelson. And I'm being nice, frankly.
Assessment So Far: Wooden. Abduction is a pretty terrible movie, but as bad as it is, Lautner's actually the worst part of it. It's not very nice to make fun of just how terrible an actor a 20-year-old kid is, but whaddya gonna do? Gotta report the truth here.
Suggestion: He should look into hiking. Hiking is a recreational activity that can teach you a lot about nature, about the world and your place in it.
Prediction: If everything in his planet lands perfectly, he has a chance to be Harry Hamlin. Dream hard.
Grierson & Leitch is a regular column about the movies. Follow us on Twitter, @griersonleitch.