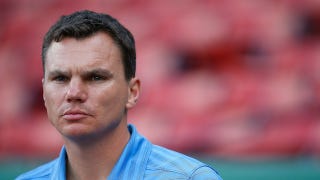 Remember when the Red Sox traded Josh Beckett, Carl Crawford, Adrian Gonzalez and Nick Punto (ha, Nick Punto) to the Dodgers for some prospects, James Loney and salary relief? A quarter-billion dollars worth of salary relief? Look at all that spendable money floating around. Right now, $45 million is committed to the team's payroll. Obviously, the Red Sox still have issues to address—starting pitching, the corner outfield—but maybe the front office can learn from former general manager Theo Epstein's exorbitant signings of the past, and try to cut down on blowing money fast?
It sounds like a nice idea, but general manager Ben Cherington thinks it probably won't happen. The Red Sox will most likely go back to having one of the highest payrolls in the MLB.
From Cherington's interview with Dennis & Callahan on WEEI:
It's harder to predict this offseason than it has been in previous offseasons because in previous offseasons we've been closer to where we were going to end up, especially last offseason where we were making cosmetic changes. It's harder to predict. I know that we'll have a very strong payroll, a large payroll. I know that we're going to add to it this winter. I'm confident saying that we'll be amongst the larger payrolls in the game. Exactly where it ends up, exactly where we rank, I just don't know that. It depends on what we do. We're not going to shoot for an arbitrary payroll number just to say we're going to get to this. We just have to look at every opportunity as it comes and say, 'Is this the right thing for the Red Sox?' But I can confidently say we'll have a large payroll.
The Top 50 2013 Free Agents on MLBTradeRumors is not a very strong list. Nick Swisher is sixth on the list! He had a good 2012 (with a 3.5 WAR), but Swisher wants a $100 million deal. You can already plan out the moves that the Sox are going to make. They'll outbid any other team for Josh Hamilton by about $20 million, give Edwin Jackson and Francisco Liriano multi-year deals, and they'll all promptly end up on the DL. And in the end, it will somehow be Bobby Valentine's fault.
And John Lackey will continue cashing in on his $82 million contract, spurting out swears and mouth-breathing as another ball gets crushed over the Green Monster.
[WEEI]