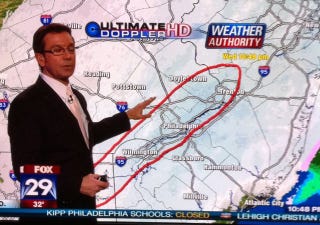 John Bolaris is nothing but a former Philly weatherman with a Twitter account. His real skill has always been his ability to keep his name in the city's gossip pages by turning up at some Center City nightspot with pretty young ladies on his arm. Bolaris is now unemployed and engaged to be married again, but his galavanting appeared to catch up with him two years ago, when he took his talents to South Beach and got roped into a scheme in which a group allegedly convinced rich guys to get wasted so they could run up all kinds of charges on their credit cards. In Bolaris's case, a pair of Latvian women allegedly drugged him and then racked up $43,000 on his AmEx over the course of two nights. Hey, pimpin' ain't easy.
The feds are still investigating. One of the women directly involved in the Bolaris incident, Marina Turcina, took a plea deal. Philadelphia magazine got hold of an interview she gave investigators in August of last year. The magazine provides the entire backstory, and you should read it here, but basically Turcina and another woman got Bolaris to agree to exchange sex for black caviar and a painting. They then all got together again the next night.
Here's Philly mag, quoting from the FBI report:
Turcina did not remember much about the second night with Bolaris. Rusmane kept taking him to new tables showing nothing on the table and saying "look there is nothing to drink, let's order again." Turcina slept all night on the couch at Caviar Bar.

The next morning, they woke Turcina, Rusmane, and Bolaris up. They were told to take Bolaris back to his hotel, so they did. Bolaris had "shit himself" and the taxi cab driver was very upset about it and did not want to take him.

She stated that John Bolaris had been overcharged "but nobody was responsible because nobody remembered anything."
The weatherman shit his pants. And it's a revelation that resulted in what might be the greatest denial ever uttered, courtesy of Bolaris's agent, Richard Liebner. Again, Philly mag has Liebner's entire comment, but it really doesn't get much better than this part:
"These people are trying to discredit John, and whether or not he crapped in his pants is the least important detail, though I don't believe it's true. This is a story about people who took advantage of people. This is a story about people who stole. How does whether or not he crapped in his pants have shit to do with Shinola?"
SEE ALSO: This Is The Story Of Two Elegant Latvian Women Roofying And Robbing A Weatherman In South Beach
Real-Life The Hangover Destroys Horny Philadelphia Weather Man's Life