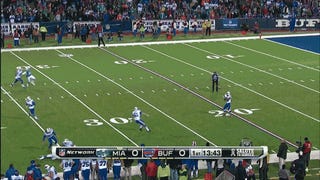 Bills 19, Dolphins 14: Oh, this game. From the get-go, it didn't look very promising that these AFC East foes would light up the scoreboard, although a nifty special teams moment early on gave up all some brief flicker of hope.
The scoring opened up when the Bills forced a quick Miami three-and-out and Leodis McKelvin, tweaked groin and all, took a 79-yard punt all the way back for what would turn out to be the Bills' only touchdown of the evening. The rest of the first half became a maddening battle between special teams. Four Rian Lindell field goals, ranging from 19 to 42 yards, put the Bills up 19-7 heading into the locker room at the half. The only other score in the half came from a 96-yard kickoff return for a touchdown by Marcus Thigpen.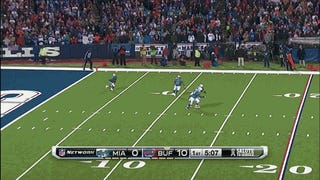 Going into the third quarter, Buffalo had 13 first downs to Miami's two, 210 yards of offense to Miami's 50. (In fact, sadly enough, the Dolphins' penalty total in the first half eclipsed its offense by four yards.) Time of possession was 2-to-1 in favor of the hometown team, which suddenly lost the ability the move the football for the rest of the night. The Bills were finished with their scoring, and after 13 first downs in the first half, Buffalo could only manage three the rest of the way. The only question was whether Miami could capitalize.
As the fourth quarter came to a start, the Dolphins had officially gone 27 consecutive drives without an offensive TD, but a coach's challenge with 8:42 left to play led to a reversal and a Davone Bess TD in the right corner of the endzone. The Dolphins stopped the Bills' ensuing drive, forcing a 52-yard punt that went out at the 1-yard line. With 99 yards to go, Miami survived a near-safety to march near midfield. However, an acrobatic interception by safety Jarius Byrd on the flip side of the two-minute warning helped seal a sloppy yet satisfactory Bills win.
Both teams are now 4-6 in the AFC East, although Miami's schedule is a bear for the next few weeks. The Bills, meanwhile, play the Colts, Jaguars, and Rams over the next three weeks, so if they can remember how to score touchdowns within the guise of a regular, functioning NFL offense, they could position themselves for a win streak and a shot at a wild card slot.