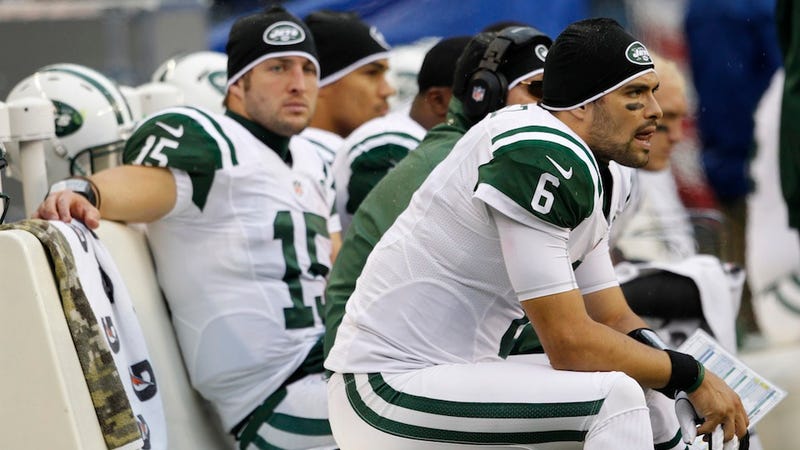 This year's edition of the Jets' public meltdown began in earnest this week as the Daily News ran a series of anonymous quotes from the locker room blasting Tim Tebow's gimmickry and poor quarterbacking. (You could just have easily framed the same quotes as a positive story, about how the locker room is fully behind Mark Sanchez as the starter, but that doesn't sell papers.)
Tebow is "terrible," said one player. "We don't look at him as a quarterback," said another. "We can't win running that shit," added yet another.
Anonymous sources are not ideal, yet they're a necessary evil because these players obviously wouldn't have said what they did if their names were attached. Cry about that all you want, but I'm more informed and more fulfilled because I now know that people on the Jets think the Tebow experiment is a failure, even if I don't know specifically who they are. I can trust that they did say it, because it's coming from a trustworthy writer and a trustworthy paper.
But there's at least one member of the Jets who took a stand and says that we should never believe anonymous quotes, because there's no guarantee they're real. That brave player? No idea, because he wouldn't give his name.
"That one right there, we don't know if that necessarily came out of the locker room. We think that was made up or that was from an old story that he took and rewrote it again," the player said. "We don't think that came from here and was recent. Whatever one comes from in here has a name on it, like the [Matt] Slauson one. We talked about it and moved on. But we're not buying all this spin that is coming out right now and we're not necessarily buying that the quote came out recently or even from this locker room."
"Anonymous people don't speak for the New York Jets," says the anonymous player Woody Johnson. The Jets owner goes on to call unnamed Jets sources "kind of cowardly in my opinion. Put your name on it."