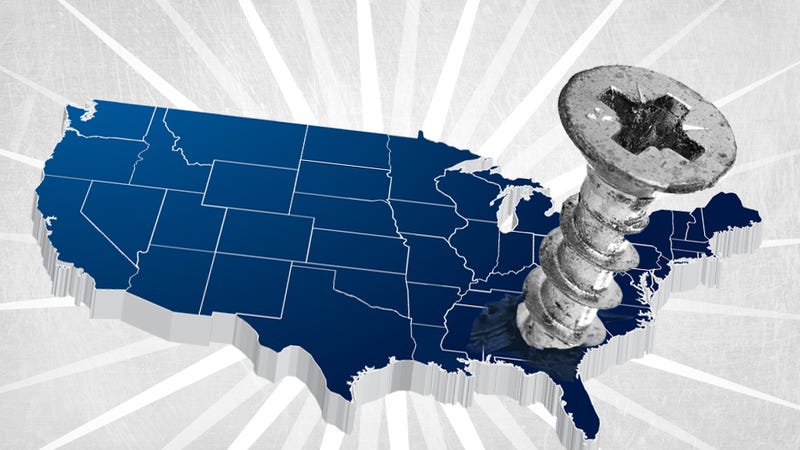 The NFL's regional programming rules are famously byzantine, but luckily the506.com cuts through the bullshit for you, providing weekly maps that allow us to answer the only question that really matters: Which fans are the most screwed this Sunday?
Week 11 winner: Augusta, Ga.
Last week's winner, Sikeston, Mo., was supposed to be saddled with Giants-Bengals while their neighbors got Falcons-Saints. Well someone actually complained, because on Saturday the Cape Girardeau market was switched to the better game. This is a good reminder that many NFL viewing schedules are not final: If you don't like your slate, contact your local CBS or Fox affiliate. If you don't like your slate because you were blacked out, contact your U.S. senator.
On to Week 11.
In a week of terrible CBS early games, the Jacksonville market takes its chance and creeps upward like some horrible, persistent skin disease. Houston is -15 to win, as one of 2012's elite defenses takes on Blaine Gabbert. Augusta, for the record, is 250 miles from Jacksonville.
This is what the Manning-Brady rivalry has turned into: a battle of which star QB can snatch more neutral TV markets in middle America. Both of these games could be great, but I'd prefer to watch Peyton's continued professional noogying of his little brother over the Patriots D trying to play something resembling football. Most of Georgia and South Carolina agrees, but Augusta gets stuck with Colts- Pats.
Fun fact: only two teams in the NFL haven't followed a loss with a win this season. The Falcons haven't had a chance—their first loss was last week. The Cardinals have lost their last 5 after starting 4-0. They'll lose this one too, badly.
Fans just a few miles northeast of Augusta get to watch the Buccaneers instead, who are averaging 35.6 points per game over their last five.