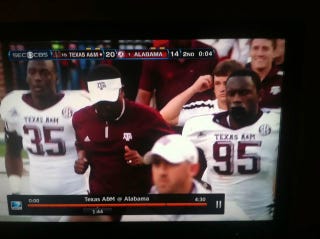 Texas A&M's upset of Alabama was undoubtedly a thrill for every Aggie fan. But imagine what it must have been like for the guy in the top right corner of the photo above. No wonder dude jogged off the field at halftime with such a shit-eating grin: On an A&M message board, he tells the story of how he snuck down there before the game and managed to blend in because he was wearing the same sideline polo as the team's coaching staff. I'd say he had a good day.
Dude says he was down on the field level before the game, and that he was standing near a wrought-iron fence that keeps the Tide of fans from rolling onto the players and coaches. Sometime before kickoff, as A&M's players were warming up, a video of Bama's game-winning touchdown drive against LSU from the week before was being shown on the scoreboard. This being Tuscaloosa, where the video must've been greeted like the noonday sun over Tenochtitlan, even the security guards were in thrall. Sensing an opportunity, dude hopped the fence—and got away with it. "I spent the next 3.5 hours in Heaven (Ags sideline)," he writes.
To prove his story, dude's got photos of himself with former A&M great John David Crow and the Bama mascot, plus close-ups of game action and of Johnny Manziel just kind of standing around. Dude wasn't permitted access to the locker room at halftime, but no one caught him until about four minutes remained in the game, when he was nabbed by security—and escorted back to his seat, where he still got to stay and watch the Aggies win.
[TexAgs.com; h/t to Nicholas K.]