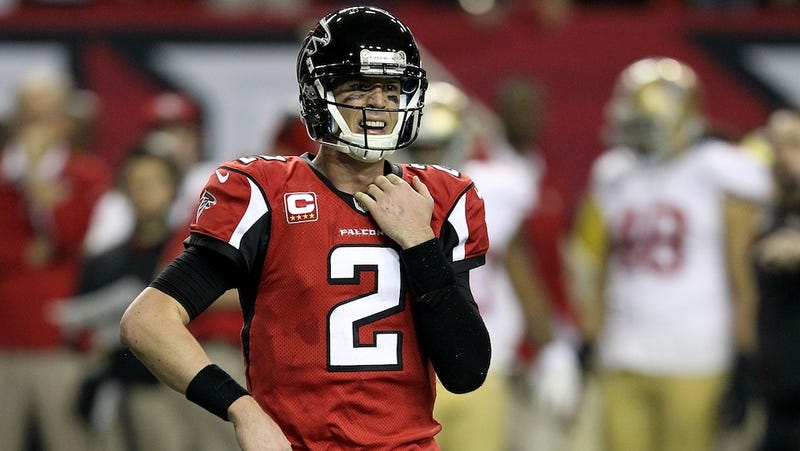 Matt Ryan hurt his shoulder when he was pancaked to the turf by Ahmad Brooks with 1:55 remaining. It looked ugly, and Ryan got up slowly. It was his left, non-throwing shoulder, but his next two passes were incomplete. When Atlanta recovered the ball with time left for one play, Ryan's "hail mary" only traveled 20 yards.
Despite initial reports that Ryan's injury was serious and he might have been unavailable for the Super Bowl had the Falcons advanced, an MRI today revealed that it's just a sprain. He'll be fine, though he will miss next week's Pro Bowl. That puts him in good company.
First Robert Griffin III shredded his knee. Then the Packers announced Aaron Rodgers flunked his post-season physical with an unspecified knee injury of his own. Now Ryan. These were the three quarterbacks selected to represent the NFC at the Pro Bowl, and each has made clear what the NFL should probably recognize—after a long, hard, brutal NFL season, no one is in shape for or wants to play glorified touch football.
The NFL has already announced a pair of replacements. Drew Brees will be the starter, and Eli Manning will back him up. And as the third QB, it'll be...shit. Tony Romo? No one wants that. Matthew Stafford? He sucks. No, the NFC's third-string QB will be you! Yes, you. Tell your boss you'll need some time off, and plan to be in Honolulu on Sunday. Don't forget to tell your mom you should be coming into the game towards the end of the third quarter, so she should turn on whatever channel the Pro Bowl is on.
(No, actually it'll be Russell Wilson. Yay!)