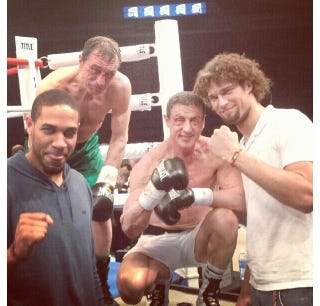 And Xavier Henry, of course. I just wanted a punchier headline. (See what I did?)
Here's Robin Lopez, Xavier Henry, Sylvester Stallone and Robert de Niro, hanging out the set of Grudge Match. Robert de Niro looks like absolute death, so it'll probably be a good movie. Then again, it stars Sylvester Stallone and features Kevin Hart in a supporting role, so it'll probably be a bad movie.
Robin Lopez broke—and is being credited with—this "first look" news about Grudge Match! Robin Lopez is your #1 source for breaking Hollywood news. Follow Robin Lopez's instagram (@gustogummi88) for more updates on Hollywood gossip, insider rumors, and more. Robin Lopez is the new Nikki Finke.