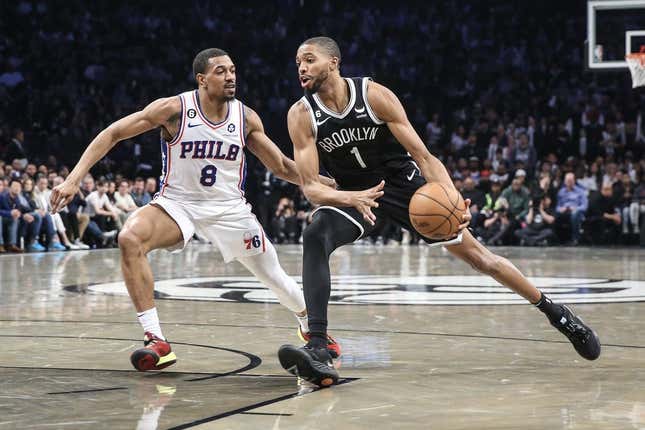 Any attempts the Brooklyn Nets have made to fluster Joel Embiid has proven unsuccessful in terms of victories thus far in their Eastern Conference first-round series
Bass' ERA stinks, but not compared to who he is off the mound | Worst of the Week Countdown
Although not necessarily at his best in the past two games, Embiid is letting his supporting cast provide enough help to position the Philadelphia 76ers on the verge of dispatching the Nets
The 76ers get their first chance to advance Saturday afternoon when they visit the Nets in Game 4 of the series
Philadelphia is seeking a sweep in a best-of-seven for the first time since defeating the Milwaukee Bucks in the second round in 1984-85. The 76ers' last sweep in an opening round of the playoffs occurred in 1991 against the Bucks, although it was a best-of-five set
Philadelphia opened the series with a 121-101 victory last Saturday and then followed it up with low-scoring wins that required the club to make plays down the stretch. In Game 3 on Thursday, the 76ers struggled most of the second half until getting it done in the final minutes of a 102-97 victory
Embiid spent most of Game 3 laboring on the floor as the Nets tried to goad him into responding to their aggressive tactics. He finished with 14 points and 10 rebounds but also made a critical block on Spencer Dinwiddie
"It's not frustrating," Embiid said. "Obviously, they have a game plan. It doesn't matter who's guarding me. It doesn't matter if it's the big man or the smaller guys. As we saw, as soon as I close out, they're just sending the double team or the triple teams.
"There's really nothing I can do but make plays for my teammates and that's fine. It's the playoffs. We got to do whatever it takes to win."
The block occurred after Tyrese Maxey finished off a 25-point performance by scoring 10 straight points for Philadelphia and hitting the tiebreaking 3-pointer over Dinwiddie with 44.7 seconds left. Maxey's clutch shot occurred three days after he scored 33 points in Philadelphia's 96-84 win and also happened without James Harden on the floor.
Harden scored 21 points but was in the locker room after being ejected in the final seconds of the third quarter for a flagrant two foul on Royce O'Neale.
"For us to rally even after everything with James' situation, to rally back and win the game is big time," Maxey said.
Brooklyn is trying to avoid getting swept out of the first round for the third time in four seasons and send the series back to Philadelphia for Game 5 on Monday. The Nets also are attempting to halt a nine-game postseason losing streak
After scoring 35 points in the second half Monday, the Nets took a six-point lead into the fourth quarter by outscoring the Sixers 35-18 in the third. Then they scored 15 points in the final 12 minutes by going 5-of-18 from the floor, missing six of seven 3-point tries and committing four turnovers
Mikal Bridges led the Nets with 26 points but was 9-of-26 from the floor. He is shooting 36.5 percent (15-of-41) in the past two games
Dinwiddie added 20 but Nic Claxton was kicked out for picking up a second technical in the fourth quarter and the Nets holding a six-point lead
"We understand the gravity of the situation, so I don't think we're using the refs as any more fuel or something of that nature," Dinwiddie said. "We have a tall task in front of us and we have a next game mentality."
--Field Level Media