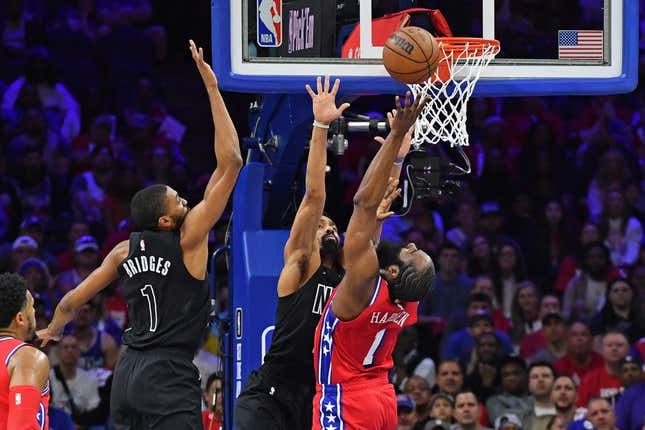 Joel Embiid had 26 points, James Harden added 23 points and 13 assists and the host Philadelphia 76ers made a franchise playoff-record 21 shots from 3-point territory in a 121-101 victory over th
Aaron Rodgers should go full Joe Namath | Comedian Bert Kreischer
Brooklyn Nets to take a 1-0 series lead on Saturday
The Sixers made 21-of-43 treys and eight different players dropped in at least one.
Embiid made all 11 free throws and blocked two shots. It was Harden's 31st career postseason double-double and he finished 7-of-13 on threes.
Tobias Harris contributed 21 points for the Sixers, who will host Game 2 on Monday.
Tyrese Maxey also had 13 and reserve Paul Reed chipped in with 11. P.J. Tucker played a solid all-around game with six points, seven rebounds and five steals.
The Sixers cruised to the victory with a dominating fourth quarter.
Philadelphia went ahead 117-94 with 3:22 remaining following Harris' dunk and the Nets weren't able to pose a threat
Mikal Bridges led the Nets with 30 points and Cameron Johnson added 18
Spencer Dinwiddie scored 14 points and Seth Curry had 10. Nic Claxton swept 10 rebounds.
The Nets shot 39 of 70 from the field (55.7 percent) and still lost largely because of 20 costly turnovers
The Sixers bolted to a 67-58 lead at halftime thanks in large part to 13 made 3-pointers. It was the most converted treys in any half for the Sixers since the 2002-03 season.
Bridges kept the Nets close with a 23-point first half on 10-of-16 shooting
Harden led the Sixers with 17 on 5-of-7 shooting from 3-point territory.
Embiid drove to the basket and tried to throw down a ferocious dunk with 7:34 left in the third. Embiid was fouled by Dorian Finney-Smith and went down hard to the floor. After a review, it was ruled simply as a common foul and Embiid converted both for a 78-67 lead.
Johnson dropped in a trey with 2:14 left and the Nets closed within 88-81
The Sixers scored the final five points of the third and led 93-81 before rolling to the finish.
--Field Level Media