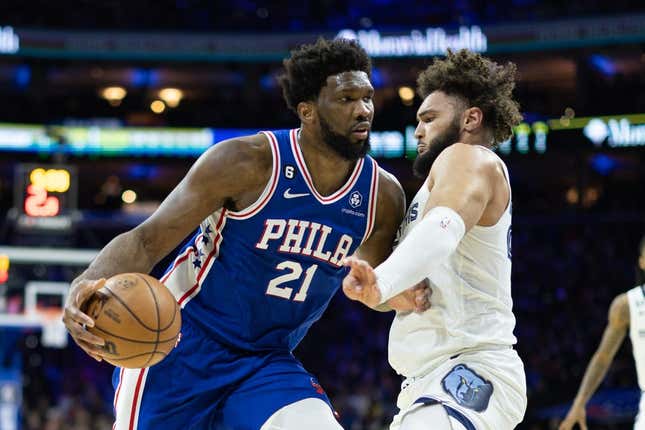 James Harden had 31 points, seven rebounds and seven assists, Joel Embiid threw down a clutch dunk with 23.3 seconds left and the host Philadelphia 76ers rallied from a 17-point deficit for a 110-105 win over the Memphis Grizzlies on Thursday.
Despite missing the morning shootaround due to a non-COVID illness, Embiid finished with 27 points, 19 rebounds, six assists and six blocked shots. He shot 7 of 25 from the field and 13 of 17 from the free-throw line.
Tobias Harris added 20 points, including a 3-pointer that gave the Sixers a 106-105 advantage with 38.4 seconds remaining. Tyrese Maxey contributed 16 for the Sixers, who won their fifth game in a row.
Desmond Bane scored 25 points and Jaren Jackson Jr. added 18 points, nine rebounds and four blocked shots for the Grizzlies. Ja Morant scored 15 on 3-of-16 shooting, Dillon Brooks had 11 and Xavier Tillman swept 12 rebounds.
The Grizzlies went ahead 104-100 when Jackson Jr. grabbed an offensive rebound and completed a dunk with 1:49 left, but the Sixers finished the game on a 10-1 run.
The Grizzlies bolted to a 56-39 lead before the Sixers responded with an 8-0 run. Jackson hit an off-balance 3-pointer off the backboard just before the half for a 59-47 lead.
Bane scored 21 points in the first half, with 19 coming in the first quarter.
Harden kept the Sixers close with 16 first-half points, but Embiid struggled before the break, going 2-for-14 from the field.
After missing his first five shots, Morant threw down a dunk with 7:19 left in the third quarter for a 65-55 lead.
Maxey twice drove to the basket and scored in the final 45.2 seconds of the third, and the Sixers trailed 81-75 at the end of the quarter.
The Sixers closed within 91-86 when Harden converted a three-point play with 7:29 left in the fourth quarter.
The Grizzlies responded with a 6-0 run highlighted by David Roddy's thunderous dunk with 6:06 remaining for an 11-point advantage.
--Field Level Media