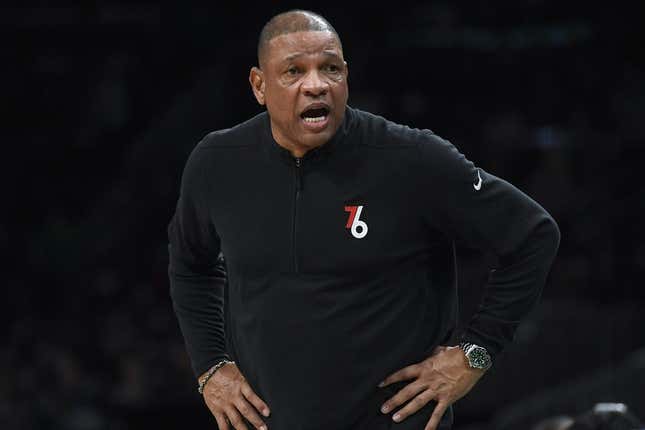 The Philadelphia 76ers parted ways with head coach Doc Rivers on Tuesday after three seasons
Are the Oakland A's a failed state? | Agree to Disagree
Rivers led the 76ers to the Eastern Conference semifinal series in each of his three seasons at the helm. Third-seeded Philadelphia fell apart in the second half of Game 7 on Sunday and dropped a 112-88 decision to the second-seeded Boston Celtics
"Doc is one of the most successful coaches in NBA history, a future Hall of Famer, and someone I respect immensely," 76ers president of basketball operations Daryl Morey said in a statement. "We're grateful for all he did in his three seasons here and thank him for the important impact he made on our franchise. After having the chance to reflect upon our season, we decided that certain changes are necessary to further our goals of competing for a championship.
Per ESPN, the 76ers' search for a new coach is expected to include Mike Budenholzer, Sam Cassell, Mike D'Antoni, Nick Nurse, Frank Vogel and Monty Williams
Rivers, 61, is best known for coaching the 2007-08 Celtics team featuring Hall of Famers Kevin Garnett, Paul Pierce and Ray Allen that won the NBA title. The Celtics returned to the Finals two years later but lost in seven games to the Los Angeles Lakers; they also made the 2012 Eastern Conference Finals.
Rivers has not coached a team past the second round of the playoffs since then.
The Sixers have flamed out in the second round in each of the three seasons since Rivers took over in 2020-21. They were the No. 1 seed in the Eastern Conference in 2020-21 but fell to the Atlanta Hawks in seven games in the semifinals. Last season, they dropped the semifinal series to the Miami Heat in six games.
Against Boston, Philadelphia held a 3-2 series lead but lost 95-86 at home in Game 6 before Sunday's disaster.
In 24 seasons as a head coach for the Orlando Magic (1999-04), Celtics (2004-13), Los Angeles Clippers (2013-20) and 76ers, Rivers has a 1,097-763 career record in the regular season and a 111-104 mark in the playoffs. He has not coached a sub-.500 team since 2006-07
--Field Level Media