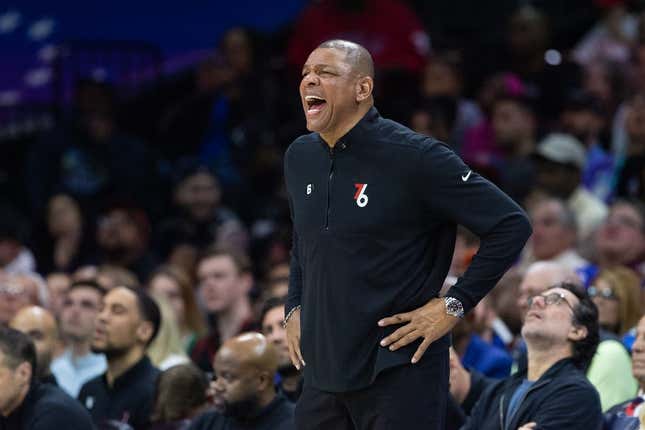 Mac McClung scored a career-high 20 points as the Philadelphia 76ers led most of the way and overcame a 46-point performance by Cam Thomas to defeat the Brooklyn Nets 134-105 Sunday afternoon in New York during a regular-season finale without playoff implications for both teams
The 76ers (54-28) finished as the Eastern Conference's third seed and will start the playoffs next weekend at home against sixth-seeded Brooklyn (45-37). The Nets reached the playoffs for the fifth straight season in a year when they traded stars Kyrie Irving and Kevin Durant at the trade deadline and used 25 players
Philadelphia sat its normal starting lineup of Joel Embiid (calf recovery), James Harden (Achilles recovery), Tobias Harris (hip injury recovery), Tyrese Maxey (neck) and P.J. Tucker (calf) along with reserves Georges Niang (knee) and De'Anthony Melton (calf).
Brooklyn held out starters Spencer Dinwiddie (rest), Dorian Finney-Smith (wrist), Cameron Johnson (knee) and Nic Claxton (rest) Royce O'Neale (knee) and Edmond Sumner (hip).
Brooklyn's Mikal Bridges appeared briefly and became the first player to play 83 games since Josh Smith split 2014-15 with Detroit and Houston. Bridges started but checked out after fouling Shake Milton four seconds in.
Milton collected 20 and eight assists while Louis King also finished with 20 in his Philadelphia debut. Paul Reed totaled 17 and 10 rebounds as the Sixers shot 52.5 percent.
Thomas finished one shy of his career high and had his fourth career 40-point game. RaiQuan Gray added 16 in his NBA debut and David Duke Jr. finished with 15 as the Nets shot 42.2 percent
Reed scored 10 points as the Sixers took a 36-21 lead through the opening quarter. Philadelphia took three 20-point leads, but the Nets outscored the Sixers 25-13 over the final eight minutes to get within 61-53 by halftime on Gray's 3 at the horn
Thomas scored 23 points in the third as the Nets erased a 14-point deficit and entered the fourth down 100-92. Thomas returned with 9:16 remaining and the Nets trailing 109-96 but the Nets never got any closer than 10 as the Sixers gradually pulled away in the final minutes
--Field Level Media