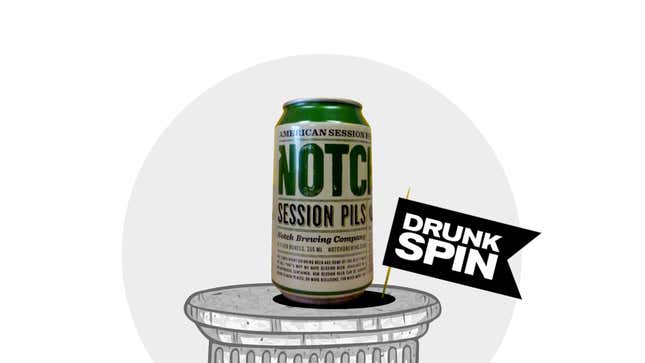 Last week, Thrillist ran a thoughtful, well-reported piece predicting that craft beer "is about to go to war with itself." The story is full of numbers, quotes, and research—with nary a digression about the author's own cat, never mind mine—which means it's ineligible for an official Loyal Order of Beer Blowhards merit badge, but it was still an important bit of journalism.
Many topics were covered, but the central thesis seemed to be that new breweries are opening at an unsustainable rate. We're up near 3,500 now, with hundreds more on the way. This is great news for consumers seeking novelty—the small city adjacent to mine has seen a cider house, two brewpubs, and a taproom open in the past year, which means that all of a sudden, single-source craft alcohol dispensaries outnumber public high schools in town by a 4 to 1 margin.
The Craft Beer Movement™ is justifiably proud of the good stuff's overall increase in market share, which now stands at roughly 11 percent, with optimistic trade-group projections eyeing 20 percent by 2020. That's fantastic. But is it enough to support all these breweries?
The economics of craft brewing are maddeningly opaque, because the businesses are by definition small and independently owned, which means they have no obligation or incentive to open up their books. But even from a dumbed-down distance, it seems obvious that the supply of good beer is growing much faster than a strict interpretation of demand would suggest: It's great that my region (and likely yours, too) has all of these new breweries, but it's not as if the beer-store shelves were a Bud-strewn wasteland before the latest round of openings.
Being neither a brewer, an economist, or a legitimate reporter, I have no facts to support my theory that a big shake-out is coming, but I still suspect that three new breweries open for every rumor of a reluctant uncle finally accepting a sip of Sierra Nevada at a backyard barbecue. I have no problem with this, because I am a consumer. And it's possible that the American economy has no problem with this either, because we also have far more hamburger chains, car models, and beer blogs than we need, too. But that said, I still think a lot of little breweries are doomed.
Thrillist quotes Patrick Emerson, an economics professor who runs a blog called Beeronomics, as saying, "Beer is all about economies of scale," which means it's really tough to lower your cost-per-ounce without increasing your production past the "nanobrewery" stage at which so many of our infant brewers currently hover. Simply put, that means a lot of breweries are going to have to expand if they want to survive, and if we have thousands of breweries all looking to grow … well, there just aren't that many uncles out there to convert.
There are a few different ways for individual breweries to ride out the storm without dramatic expansion. One is to adopt the Euro-style beer-garden model, in which you focus almost exclusively on draft sales at your own facility. This limits your potential for gross sales, but it's substantially more profitable to charge six bucks for a pint of beer you make in the back room than it is to brew it, package it, market it, and transport it, all at a low enough wholesale price for a bar in another state to sell it for the same six bucks, with everyone along the way still making enough money for it to be worth their while.
Another, more ambitious route is to brew really kick-ass beer for which you can charge a premium price. Boston's Trillium makes some of the best beer in America, which means people line up at the brewery to pay $20 for a take-out half-gallon. This enables Trillium to bypass all the middlemen without having to run a restaurant, host a karaoke night, or subject themselves to any of the other community-building debasements that traditional brewpubs rely on to get people in the door.
The third path is the least common: A brewery can carve out a truly valuable niche in the beer world. That sounds vague and mundane on the face of it, but ask yourself how many beers (or brewers) you consider to be downright essential. There are so many excellent beers of all styles these days that we could all get along quite nicely if we lost any number of 100-pointers. And there are even more unexceptional or just plain redundant beers that will disappear without us really noticing. A brewer who can stake out a specific and unique claim in the beer marketplace stands a better-than-average chance to survive whatever reshuffling may be on the beer horizon.
Massachusetts-based Notch Brewing makes exclusively session beers,which founder Chris Lohring defines as those containing less than 4.5 percent alcohol-by-volume. Notch beers are also very reasonably priced by current market standards, at around $10 per six-pack in very expensive Boston. (Oh yeah, a price war is definitely coming; there's no reason to expect beer to be the one industry in American history immune to the tawdry lure of the value menu.) So in a confusing, overcrowded marketplace, Notch stands out in two significant ways: If you see a sixer in the store, you know it's not going to be too boozy or too expensive. I can't think of many other American-owned breweries that can make the same pair of claims.
And, most important, Notch beers are universally very good, with some of them crossing the line into greatness. Their newly canned Saison is remarkable given its price. It costs about 40 percent less than my other favorite saison, Allagash, and if it's not just as good, it's awful damn close. And Notch's 4.3-percent ABV Left of the Dial IPA, their concession to the drinking public's obsession with aromatic hops, proves that in the right hands, session IPAs are fully credible beers, rather than just watered-down versions of the best-selling craft beer style.
My favorite Notch beer is their Session Pils, which hits all of the aforementioned sweet spots—low ABV, low price, high quality—while also helping fill a void in American brewing. Pilsners and other light lagers are starting to make a comeback, but the style still hasn't fully washed off the stink of its decades-long association with cruddy, stale imports and the fizzy yellow behemoths that dominated domestic brewing up until way too recent times.
Notch Pils is brewed in the Czech style (German models are slightly different), which means it relies on Saaz hops for the dry, earthy, herbal, lightly peppery character that separates the best versions from the stupid-sweet imitators. Pilsners showcase hops more than many traditional Old World styles, but Notch Pils still displays a biscuity malt note that makes it an excellent, well-rounded beer ideal for another long, hot day spent waiting for the Craft Beer Bubble to burst.
---
This is Drunkspin Daily, the Concourse's adequate source for booze news, reviews, and bullshit. We'll be highlighting a beer a day in this space; please leave suggestions below.

Image by Jim Cooke.
Will Gordon loves life and tolerates dissent. He lives in Cambridge, Mass., and some of his closest friends have met Certified Cicerones. Find him on Twitter @WillGordonAgain.