This browser does not support the video element.
In an age of unprecedented analytics across sports, it's getting increasingly difficult for teams to hone in on untapped avenues for optimization. It's possible, then, that the Golden State Warriors have reached final frontier of quantification by bringing in renowned UC-Berkeley Social Psychologist, Dacher Keltner, to consult with the coaching staff about on-court chemistry.
Recent Video
This browser does not support the video element.
In 2010, Keltner published a study entitled Tactile Communication, Cooperation, and Performance: An Ethological Study of the NBA that says things like:
In this ethological study of physical touch during NBA games, we have demonstrated that touch is crucial for predicting performance in competitive group settings. Consistent with expectation, touch was associated with sophisticated metrics of higher performance at the individual and group level, and this touch to performance relationship held when accounting for player status, preseason expectations, and early season performance during the game in which touch was assessed.
G/O Media may get a commission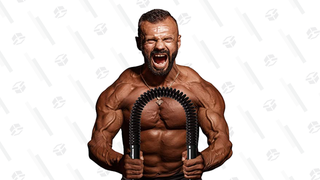 10% off
Zenooze Boa Power Twister
Translation: Teams that touch each other more, win more. The study claims that this holds true even if you control for obvious factors like good teams having more cause to celebrate.
Last year, Keltner attended a couple of the Warriors' practices to provide feedback on their nonverbal communication and, well, that worked out pretty well for them in the end. So we visited the UC Berkeley professor at his on-campus office to learn more about the power of friendly touching.