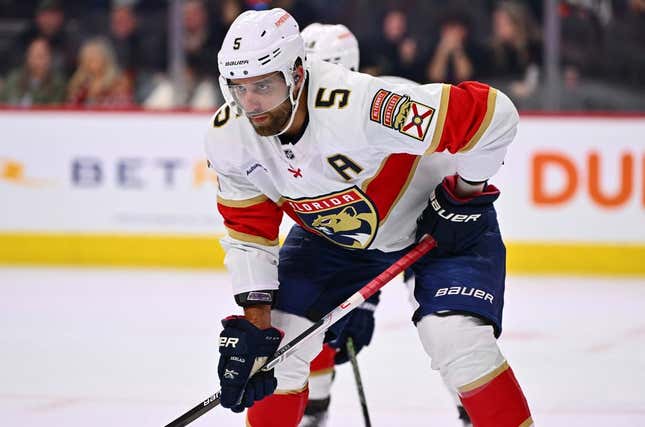 Defenseman Aaron Ekblad didn't take too kindly to LIV Golf star Brooks Koepka hoisting an orange traffic cone and calling him out at a recent Florida Panthers game in Sunrise, Fla
Can the Florida Panthers make a comeback? | Agree to Disagree
In a video that went viral, Koepka was shown holding the traffic cone after Ekblad was beaten on a goal during the Panthers' 4-3 loss to the New York Rangers on Saturday
"He gave up a bad goal," Koepka said about Ekblad, per GolfWRX. "It was a bad pass in the third. I'm a die-hard P's fan, and he gave up a bad goal.
"I just felt like if they didn't win that game they weren't going to make the playoffs. Dedicated fan, man."
Ekblad, who said he does not know Koepka, responded to the video on Wednesday.
"We're not buddies. Never be buddies," Ekblad told Sportsnet.
The Panthers are well off the pace of their Presidents' Trophy-winning season from 2021-22. Florida (37-31-7, 81 points) sits one point in back of the Pittsburgh Penguins for the second wild-card spot in the Eastern Conference entering play on Thursday
Ekblad, 27, is a former Calder Trophy recipient as the NHL's rookie of the year in 2014-15. He was selected by the Panthers with the first overall pick of the 2014 NHL Draft
Koepka, 32, was a four-time major winner on the PGA Tour before joining the upstart LIV circuit in June 2022.
--Field Level Media