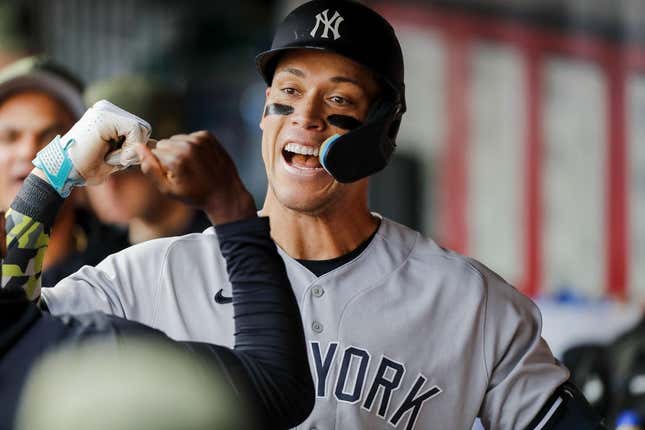 Aaron Judge hit his fifth homer of the week and Anthony Rizzo also went deep as the visiting New York Yankees recorded a 6-2 victory over the Cincinnati Reds on Friday night
Coming off a highly charged four-game series in Toronto, the Yankees won for the 12th time in 17 games
Judge homered for the seventh time since coming off the injured list two batters in, sending a 2-2 fastball over the center field fence. Rizzo hit a two-run homer on a 2-2 pitch to right off Ian Gibaut for a 3-0 lead in the sixth.
Kyle Higashioka added a two-run double in the ninth after slamming his bat on the bat rack in frustration for a strikeout with two on in the seventh. Harrison Bader contributed an RBI single for a four-run lead after entering as a pinch hitter in the eighth.
After Rizzo's 23rd career homer in Cincinnati, Jake Fraley hit a two-run double off the base of the left-center field wall against Jimmy Cordero.
New York's Clarke Schmidt (2-4) was checked twice for sticky substances and rebounded from his worst start of the season to get his second career win as a starter. Schmidt allowed two runs on five hits in five-plus innings while striking out six and walking two.
Cordero protected the one-run lead by fanning Nick Senzel and Henry Ramos with two on. Albert Abreu retired rookie Matt McClain to end the seventh after walking Jonathan India.
Wandy Peralta fanned two in a 1-2-3 eighth and Nick Ramirez pitched the ninth in a non-save situation.
Cincinnati's Ben Lively (1-2) allowed two runs on two hits in 5 2/3 innings in his first start since April 26, 2018, for Philadelphia. Lively retired 16 straight before walking Judge ahead of Rizzo's homer.
In the fifth, Schmidt was checked for sticky substances for the second time. He returned after cleaning up the substances following instructions from umpires. Cincinnati manager David Bell was ejected by plate umpire Brian O'Nora for voicing his disapproval at Schmidt being allowed to continue.
It was the second time this season an opposing manager was tossed after a sticky substance check on a Yankees pitcher
On April 15, Minnesota manager Rocco Baldelli when Domingo German was allowed to keep pitching. German was handed a 10-game suspension after using sticky substances during Tuesday's start in Toronto.
--Field Level Media