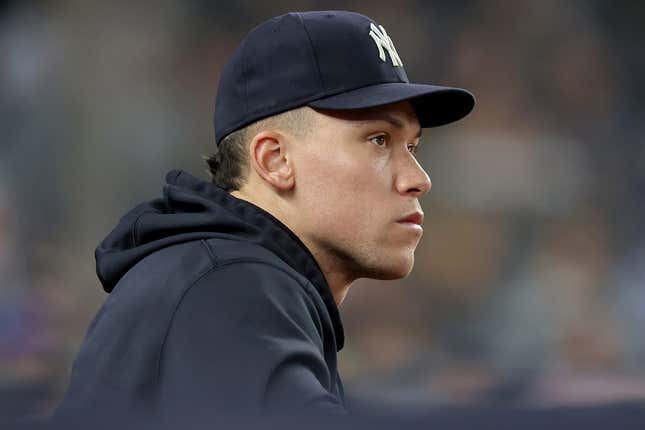 Aaron Judge could not guarantee he would be able to avoid future headfirst slides, but the slugger said he is ready to return from a strained right hip, giving the New York Yankees some of their best news in recent weeks
Can the Florida Panthers make a comeback? | Agree to Disagree
Judge is expected to be activated from the 10-day injured list to rejoin the lineup on Tuesday when the Yankees continue a three-game series with the visiting Oakland Athletics
"I feel good, I'm ready to go," Judge said Monday afternoon. "Glad it's over with and ready to get back to this team."
Judge is returning after the Yankees opened the series with a season-high four homers in a 7-2 win Monday night. Gleyber Torres hit a tiebreaking solo homer while Oswaldo Cabrera, DJ LeMahieu and Aaron Hicks hit two-run shots
The Yankees went 4-6 while Judge was sidelined. He initially was injured on a headfirst slide on April 26 while trying to steal third base in the second inning of a 12-6 win at Minnesota after hitting a bases-clearing double. Judge took two at-bats on April 27 in Texas before being pulled and landing on the injured list
"I don't know what happens," Judge said of sliding the next time the situation arises. "I tell myself to slide feet first and I feel like I'm gonna be out so I just kind of dive. I was trying to get the base. I can't promise you guys it won't happen again, but we'll try not to."
After hitting an American League-record 62 homers in 157 games last season, Judge is batting .261 with six homers and 14 RBIs in 26 games this year.
"It'll be fun to write his name in the lineup," Yankees manager Aaron Boone said. "There's just that presence he has, being our leader.
Oakland, meanwhile, needs someone to step up and capitalize on the team's opportunities. The A's scored on an infield single by Tony Kemp and a bases-loaded walk by Jace Peterson in pinch-hitting appearances on Monday but were 2-for-12 with runners in scoring position and stranded 12.
"We had some opportunities to capitalize with runners in scoring position and didn't come through," Oakland manager Mark Kotsay said.
The A's might be missing a regular on Tuesday. Ramon Laureano was placed in the concussion protocol and is listed as day-to-day after running into the wall in the first inning on Monday to catch a fly ball by Torres. Laureano exited the contest after making the grab.
Clarke Schmidt (0-3, 5.83 ERA), who is still searching for his first career win as a starting pitcher, will get the ball for the Yankees on Tuesday. Schmidt is 0-6 with a 5.47 ERA in 12 career starts
On Wednesday, he allowed two unearned runs on six hits in 4 1/3 innings before the Yankees rallied to beat the Cleveland Guardians. In the outing before that, Schmidt was rocked for five runs on 10 hits in five innings during a 5-2 defeat at Texas on April 28
Schmidt took the loss in his only previous outing against the A's when he allowed four runs on eight hits in 4 1/3 innings at Oakland last Aug. 28.
Drew Rucinski (0-2, 7.71) will make his fourth career start and third for the A's. He has allowed 10 runs (eight earned) in two starts since returning from a hamstring injury. On Thursday, he gave up five runs and walked five in 3 2/3 innings during a 5-3 loss to the Seattle Mariners.
Rucinski will be facing the Yankees for the second time. With the Miami Marlins, he pitched two scoreless innings versus New York on Aug. 21, 2018
--Field Level Media