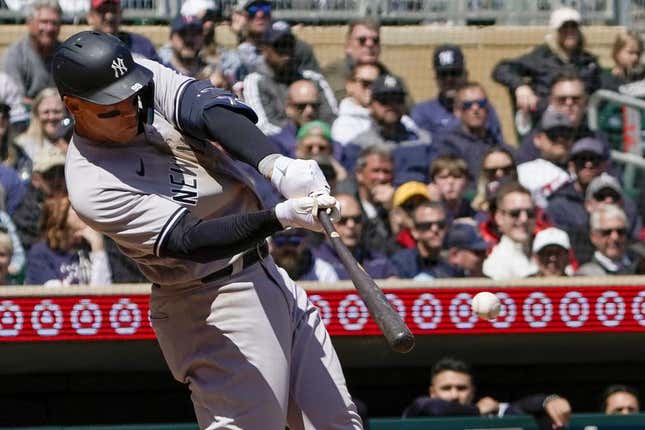 The last time the New York Yankees visited the Texas Rangers, Aaron Judge made history by hitting his 62nd home run to break the 61-year-old American League record held by Roger Maris
Aaron Rodgers should go full Joe Namath | Comedian Bert Kreischer
Nearly seven months later, Judge and the Yankees are merely seeking more productive at-bats when they open a four-game series against the Rangers on Thursday night in Arlington, Texas
Judge and the Yankees are coming off one of their most productive showings of the first month of the season. After scoring three runs or less in 10 of their previous 12 games, the Yankees avoided a three-game sweep with a 12-6 victory over the visiting Minnesota Twins on Wednesday afternoon
Judge celebrated his 31st birthday Wednesday by collecting three hits and three RBIs. He also dodged an injury to his right hand after attempting to steal third in a five-run second and said he is fine for his first appearance in Texas since hitting his historic home run there on Oct. 4.
"I feel like the past couple games, couple series, we've been a little passive and almost letting the pitcher kind of dictate the at-bat and dictate the flow of the game," Judge said.
The Yankees head to Texas after setting a season high with 14 hits, including five doubles and a homer from Gleyber Torres. Rookie Anthony Volpe knocked in three runs and scored three times
"When you're going through a little stretch where you're having a real hard time scoring runs, it's definitely nice to break through," New York manager Aaron Boone said.
The Rangers are experiencing their first rough patch under new manager Bruce Bochy, as they were swept in three games by the host Cincinnati Reds to open the week. Texas blew a four-run lead on Monday, squandered a six-run edge on Tuesday and took a 5-3 loss on Wednesday afternoon when Jonathan Hernandez allowed a two-run, game-ending homer to Nick Senzel in the ninth
"There's nothing to be concerned about," Bochy said. "I mean, we've got a lot of baseball left. These guys will bounce back. We have a tough team ahead of us, so we will have to play our best ball, but no, no one is concerned, and we will continue to get better."
Before the sweep in Cincinnati, Texas had won six of seven, including three games in which it scored at least 12 runs.
Texas faces a tough task as it attempts to snap its skid, as New York will start its ace in the series opener.
Right-hander Gerrit Cole (4-0, 0.79 ERA) has yet to allow a homer in five starts this year after serving up an AL-worst 33 last season. Cole took his first no-decision on Saturday when he allowed four hits in 5 2/3 scoreless innings of a 3-2 home win over the Toronto Blue Jays.
Cole is 5-4 with a 3.84 ERA in 13 career starts against the Rangers
Left-hander Andrew Heaney (2-1, 4.34) will open the series for Texas, seeking his third consecutive winning decision. He is 2-0 with a 1.13 ERA over his past three starts, and he allowed two runs on five hits in six innings of an 18-3 rout of the visiting Oakland Athletics on Saturday.
Heaney, who went 2-2 with a 7.32 ERA in 12 appearances (five starts) with the Yankees in the final two months of 2021, is 1-2 with a 5.47 ERA in five career starts against New York
--Field Level Media