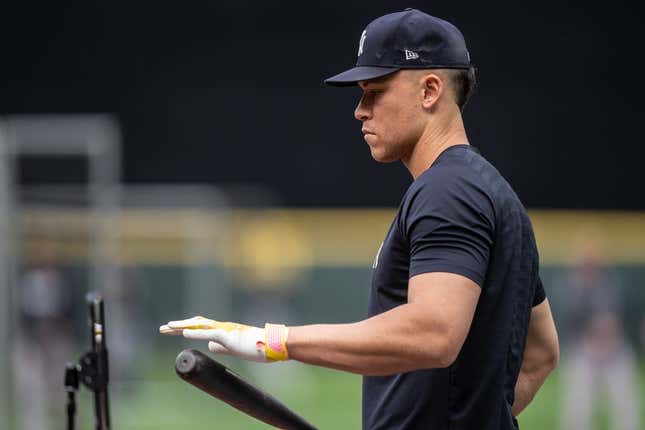 New York Yankees superstar Aaron Judge was back on the field for batting practice but said he still has no timetable for his return to action
How running an NFL team is like running a restaurant | Chef Emeril Lagasse
Judge joined his teammates at Coors Field on Friday night as the Yankees prepared to open a three-game series against the Colorado Rockies, their first action since the All-Star break. It marked the first time Judge has taken batting practice since suffering a torn toe ligament crashing through an outfield gate at Dodger Stadium on June 3
Although he appeared to run without any obvious limitations, Judge remains a no-go.
"It's not healed, so obviously it is what it is," Judge said, per MLB.com. "But we're making progress every day."
"... I didn't feel like I was limited at all," Judge said of his warmup activity. "We're slowly progressing to where we need to be. Now, it's just about getting reps and, maybe, the endurance and stamina. Being off it for five weeks is tough."
Though there had been rumors that Judge might be ready to return soon after the All-Star break, both Judge and general manager Brian Cashman shot those down.
"I've got no date," Judge said. "I've got nothing for you on that. But you're asking how I'm feeling and how we're progressing, and we're progressing well and getting closer."
Cashman told Newsday: "He hasn't even had a rehab assignment or run. There is no clear date for his return, though it'll be sometime in the second half."
The Yankees have been stuck in a hitting slump since Judge's injury and are currently in last place in the division. However, at six games above .500 in the very competitive A.L. East, they're within striking distance of first place (Tampa Bay Rays) and are still very much in the wild-card race
Amid the decline in hitting before the All-Star break, the Yankees replaced hitting coach Dillon Lawson with broadcaster and former player Sean Casey, who averaged .302 over 12 seasons in the majors with five different teams, including three All-Star appearances
Casey is a former teammate of Yankees manager Aaron Boone, who had some positive reactions to Judge's recovery so far
"We've been encouraged by what we've been seeing the last week or so from a hitting (and running) standpoint," Boone said. "I think it's gonna be more getting to that next level of really being able to let it loose running. He's run this week already, but where you're able to stop and start and cut. The hitting is going really well."
Boone also refused to try to pinpoint a return date.
"I'm not going to put a time frame on this," Boone said Friday. "He's doing well. He'll be ready when he's ready. ... The biggest thing will be getting to that game endurance, stamina."
--Field Level Media