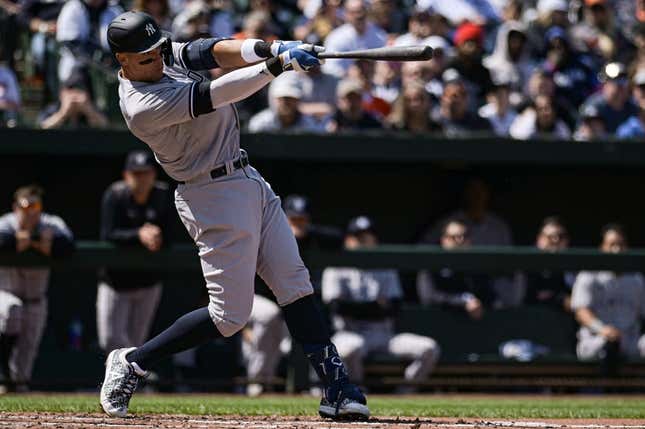 Aaron Judge and the New York Yankees are seemingly picking up right where they left off last season
Bass' ERA stinks, but not compared to who he is off the mound | Worst of the Week Countdown
Judge, who set an American League record with 62 home runs last year, went deep twice Sunday in a 5-3 win against the host Baltimore Orioles to give the Yankees their third series victory in as many tries
The slugging center fielder is up to four homers on the year as New York prepares to open a three-game road series against the Cleveland Guardians on Monday
"He's the best player going right now," Yankees manager Aaron Boone said of Judge, the reigning AL MVP. "He's hungry and focused. He doesn't take anything for granted.
Judge cleared the center field wall with a third-inning blast on Sunday, then reached the bullpens in the eighth inning despite the Orioles moving the left field wall back this offseason.
"I feel like there's always a good breeze, a good wind blowing out," Judge said of hitting at Camden Yards. "I was pretty upset when they moved that wall back, but you've got to deal with it and just try to hit it in other parts besides that big wall."
Franchy Cordero, released by Baltimore in spring training, added a two-run homer for the Yankees
"I felt like I was having a really good camp and had a really good chance of making the team with Baltimore," Cordero said. "I can tell you, I'm very happy I'm with the Yankees right now.
Cordero said he also is happy to be a teammate of Judge, who has reached base in 42 consecutive regular-season games.
"He's been amazing," Cordero said. "On a daily basis, when you get to see how much work he puts in -- defensively, offensively -- it's a lot of fun to play with him."
The Guardians avoided being swept in their home-opening, three-game series against the Seattle Mariners by thrice rallying for a 7-6 victory in 12 innings on Sunday
Will Brennan hit a two-run double with two outs in the bottom of the ninth to tie the score 3-3 and force extra innings. Brennan's run-scoring single leveled the score at 5-all in the 11th after Seattle scored twice in the top of the inning, and the Guardians scored two more runs in the 12th to overcome another deficit
Jose Ramirez scored the winning run on Josh Bell's slow roller to second base.
Brennan, a rookie who made his third start of the season, said of his calm demeanor, "I feel like I've been prepared for this. That's the moment every kid dreams of. Just wanted to take advantage of it."
The 25-year-old Kansas State product made his major league debut last September.
"For our team, I was thrilled. For him, I was really happy," Cleveland manager Terry Francona said. "He's had some tough at-bats. I mean, for a young kid, he's coming in and facing closers, not playing every day like he's used to, and he just is always ready.
"They're young, but they're not going to back down and they're not pouting, so let's go play."
Monday's series opener will feature a matchup of right-handers: the Yankees' Domingo German (0-1, 7.71 ERA) and the Guardians' Shane Bieber (0-0, 2.25)
German yielded four runs on four hits in 4 2/3 innings during his season debut, a 4-1 loss to the Philadelphia Phillies on Tuesday. He struck out eight without issuing a walk.
In his career against the Guardians, he is 1-2 with a 4.91 ERA in four starts
Bieber will be making his third start of the season, having lasted six innings in each of his first two outings. He is 1-1 with a 5.74 ERA in three lifetime starts versus New York.
--Field Level Media