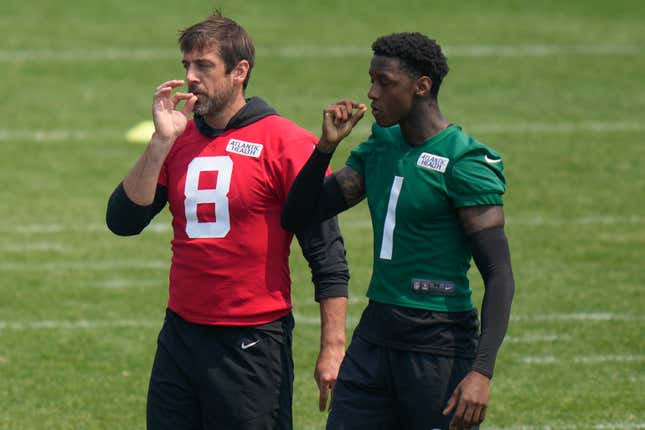 Aaron Rodgers has earned roughly $305.6 million over his football career, so naturally he and his partners are looking to crowdfund $1.235 million in support of their new venture, Online Sports Database.

Does Aaron Rodgers' move to the Jets top our list of worst sports moments of the week?
OSDB had previously stolen stories from Deadspin and other outlets. Back in 2021, Sam Fels noted that the site's "editorial" section grifted a bunch of articles from all over the place, including Deadspin.
"And there was Donovan Dooley's post on Zion Williamson, published on OSDB with no attribution to Deadspin whatsoever, and no one bothering to ask Donovan, or any of us, for permission," Fels wrote. "And there was Dustin Foote's article about Alex Smith's retirement. And Dustin Foote's article about — fittingly enough — Aaron Rodgers hosting Jeopardy! 
"And, hey, we're back to Donovan, with the site this time stealing his post about Jayson Tatum and Donovan Mitchell."
The site also lifted from ESPN, USA Today, and Forbes.
Rodgers and OSDB co-founder and CEO Ryan Rottman told the Sports Business Journal that they were inspired by public ownership model of the Green Bay Packers. However, donors to OSDB won't have any stake in the company, as Packers stockholders do.

"One thing that struck us ... was the loyalty the fans had in the community, the passion they had for the team, because a lot of them were owners," Rottman told SBJ. "We were all so taken aback by how much that actually built the community around the team, and doing this bridge [round] was something we wanted to use to create within OSDB a community of like-minded sports fans."
The crowdfunding campaign is part of a $2.5 million bridge round. OSDB already has $1.2 in investments, per the SBJ.
OSDB, which also includes co-founder Nate Raabe, launched in 2021 as an IMDB for athletes, per the SBJ report.
—Field Level Media