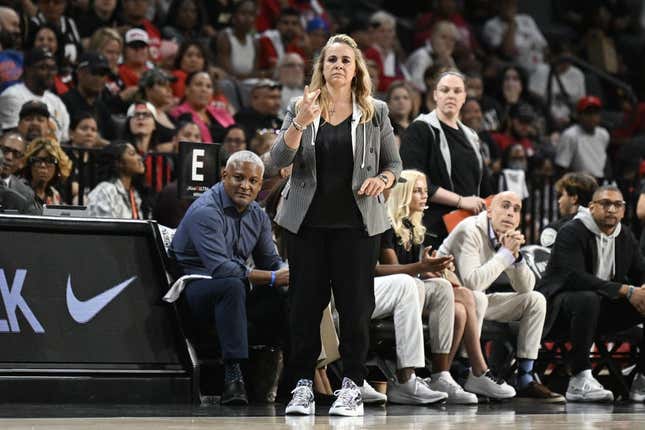 All the Las Vegas Aces have to do to secure the No. 1 seed in the WNBA playoffs is defeat the visiting Phoenix Mercury in the regular-season finale Sunday.
Is Texas or Florida State a bigger national title contender? | Agree to Disagree
The defending-champion Aces (33-6) routed the last-place Mercury (9-30) 94-73 on Friday at Phoenix. The New York Liberty (32-7) are second in the standings with one game remaining today at home against the Washington Mystics (18-21).
Las Vegas coach Becky Hammon said she suspected her team might get off to a slow start after a six-day hiatus. The Aces found themselves tied at 20 after one quarter but took control by outscoring the Mercury 28-11 in the second quarter.
Las Vegas forced as many turnovers (five) as Phoenix had field goals in the second period as the Mercury shot 26.3 percent from the field in the 10 minutes before halftime.
"We know the defense can be a separation factor for us," Hammon said.
Las Vegas pushed the lead to 72-48 at the end of the third quarter and led by as many as 30 points in the fourth quarter.
Phoenix, which has lost its last 10 games, is limping to the finish line as guards Diana Taurasi (toe), Sophie Cunningham (jaw) and Shey Peddy (concussion protocols) are all sidelined.
The Mercury did have a bright spot Friday as second-year guard Sug Sutton achieved the first triple-double in the franchise's 28-year history, finishing with 18 points (all in the second half), 11 rebounds and 11 assists.
"It's unbelievable because I didn't know it was the first one in (franchise) history," Sutton said. "I'm pretty shocked right now and I'm really honored to be a part of this franchise and be able to do that."
Megan Gustafson scored 14 points off the bench, starter Moriah Jefferson had 11 and star center Brittney Griner added 10.
"We knew from training camp how special of a player that Sug was," Mercury interim head coach Nikki Blue said. "It's taken all season for her to really start believing in herself and really show what she can do."
—Field Level Media