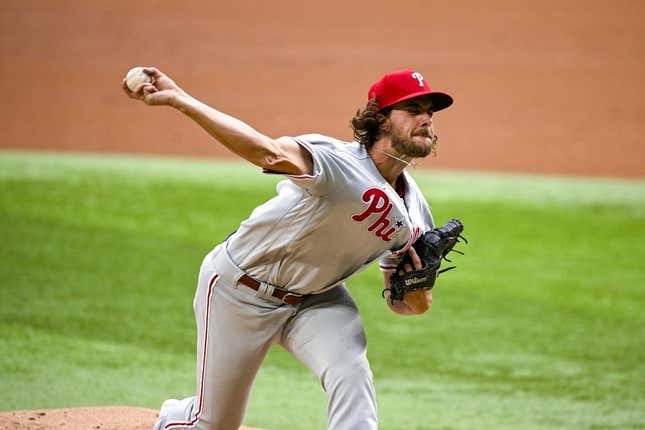 Gerrit Cole and Aaron Nola experienced vastly different results on Opening Day. While Cole dominated his first start, Nola was rocked in his season debut.
Aaron Rodgers should go full Joe Namath | Comedian Bert Kreischer
The right-handed aces will oppose each other for the first time Wednesday when the New York Yankees host the Philadelphia Phillies in the finale of a three-game series
The Phillies are seeking their second win after evening the series with a 4-1 win on Tuesday. Philadelphia avoided its worst start when Kyle Schwarber hit his 200th career homer on the second pitch of the game and Brandon Marsh also homered
"It was a good offensive night. I thought we swung the bats well. It's good to get our first win, but it's just one win," Philadelphia manager Rob Thomson said. "We've got another game tomorrow. We've got a tough pitcher we're going to face. We've gotta knuckle down."
The Phillies had 10 hits and went deep twice - a big turnaround after they hit one homer while being outscored 37-12 in their first 0-4 start since 2016
"It's a great feeling," Marsh said. "Now we go. It was a good all-around game."
After the Yankees were held to four hits and scored their lone run on a homer by DJ LeMahieu, Cole (1-0, 0.00 ERA) will attempt to open a season with two straight wins for the second time in four seasons and fourth time overall. He also started 2-0 in his first two seasons with the Pittsburgh Pirates, in 2013 and 2014
Cole is hoping for results similar to Thursday, when he allowed three hits in six innings of a 5-0 win over the San Francisco Giants. After walking the game's first hitter, Cole struck out 11 in a 95-pitch outing that saw Cole average 97.8 mph on 61 four-seam fastballs.
"Honestly, after the first batter, I would have told you I would have just been happy to get through five," Cole said. "I didn't quite know how it was going to shake out when you fire four high to start the game."
Cole is 5-3 with a 3.12 ERA in eight career starts against the Phillies. He last faced them Aug. 3, 2020, when he allowed one run and five hits in six innings of a 6-3 win while opposing Jake Arrieta
Nola (0-0, 12.27) struggled in the latter portion of his season debut Thursday. He allowed five runs on four hits in 3 2/3 innings during Philadelphia's 11-7 loss to the Texas Rangers.
Nola was unable to protect a 5-0 lead as he allowed a bases-loaded two-run double to Jonah Heim and a three-run homer on a 2-0 fastball to Robbie Grossman.
"You try to bear down a little more (with runners on)," Nola said. "That's when you really have to make good pitches. I didn't do that today."
Nola is 1-1 with a 2.37 ERA in three career starts against the Yankees. He took a 6-4 loss in his last outing against them, on July 20, 2021. He allowed four runs on seven hits over 5 1/3 innings
--Field Level Media